Past Jazz Maui Events 2018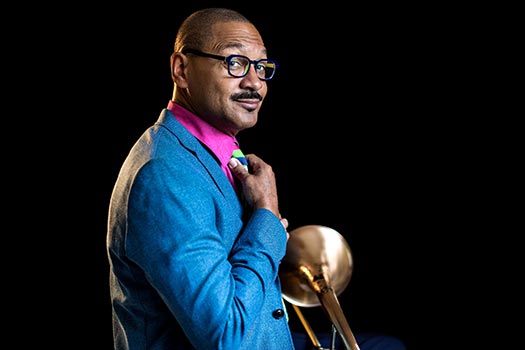 King Kekaulike High School Spring Concert
featuring Delfeayo Marsalis
Worldwide Music Ventures & Jazz Maui present the 21st Annual King Kekaulike High School Spring Concert at 7 pm in Castle Theater at Maui Arts & Cultural Center with student performers and special guest, Delfeayo Marsalis. Admission is free.
Marsalis is an internationally acclaimed trombonist, composer, producer and educator. With the legendary Marsalis Family, he garnered the nation's highest jazz honor in 2011 – a National Endowment for the Arts Jazz Masters Award.
On Sunday, April 8 from 2 to 3:30 pm, Marsalis will conduct a complimentary jazz workshop for students and aspiring musicians in the high school's band room. To register, call 808-727-3639 or email kkhsbandevents@gmail.com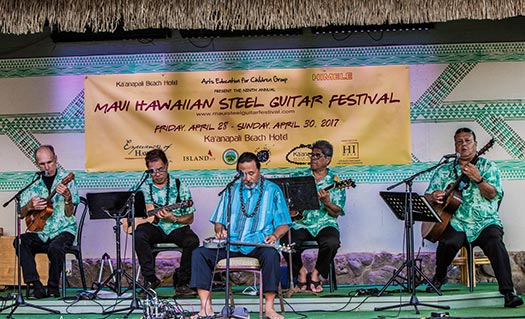 Friday, April 13, Saturday, April 14
and Sunday, April 15, 2018
Maui Hawaiian Steel Guitar Festival
Celebrate the 10th anniversary of Maui's Hawaiian Steel Guitar Festival on Friday & Saturday at Ka'anapali Beach Hotel and Sunday at Queen Ka'ahumanu Center. Admission is free.
Festivities in Ka'anapali include open stage performances on Friday from 11 am to 4 pm, two days of ho'olaule'a pageants with six presentations each night from 5:30 to 8:30 pm, kanikapila jam sessions for the public hosted by master steel guitar players each night at 9:30 pm, steel guitar workshops on Saturday, cultural activities, a silent auction and vintage steel guitar exhibit courtesy of Geri Valdriz.
The lineup features: Alan Akaka, Tadashi Arakawa, Bobby Ingano, Joel Katz, Kiyoshi "Lion" Kobayashi, Dave "DK" Kolars, Patti Maxine, Greg Sardinha, Alexis Tolentino and Geri Valdriz. Next Generation student musicians include Tai, Joey and Pono. Special guests from Japan are a student quartet, Anegogumi, featuring Yoshiko Seo on steel guitar, and the 17-member Yokohama Hawaiian Music Academy Band.
Sunday's festival in Kahului will showcase Valdriz' vintage steel guitar exhibit installed at the Story of Hawai'i Museum and a pageant, featuring ten steel guitar presentations beginning at 11 am and ending at 4 pm.  The lineup includes: Alan Akaka, Tadashi Arakawa, Bobby Ingano, Kiyoshi "Lion" Kobayashi, Dave "DK" Kolars, Patti Maxine, Greg Sardinha, Alexis Tolentino and Geri Valdriz. Next Generation student musicians Tai, Joey and Pono will open. Visit MauiSteelGuitarFestival.com