Watch Our
Exclusive "Save the Music" Virtual Gala!
A live event held on Friday October 30, 2020

A Benefit to support "Virtual Jazz In the Schools"

Jazz Maui and Maui KU'IA Chocolate



present
Sunset Jazz
Chocolate Tasting
"An ultimate tasting experience"
Friday November 20, 5PM – 7PM
Rooftop Pavillion Maui KU'IA Chocolate Factory
 Chocolate tasting, Food, Music, breathtaking views, bring your own beverage
Limited to  30 People 
 Event Features
Maui KU'IA Chocolate Tasting  
Chef Paris Nabavi –  Chicken Mole Taco with cilantro and fesco cheese
Bring your own beverage 
Download the Chocolate and Beverage Pairing List
Music – Phil Smith Trio
Phil Smith – Sax and woodwinds, Brian Cuomo – Keyboards,
Jesse Smith – Drums
Event will be live streamed 
Chocolate Laulima – Arts Education for Children Group / Jazz Maui
Chocolate purchases benefit AECG / Jazz Maui charity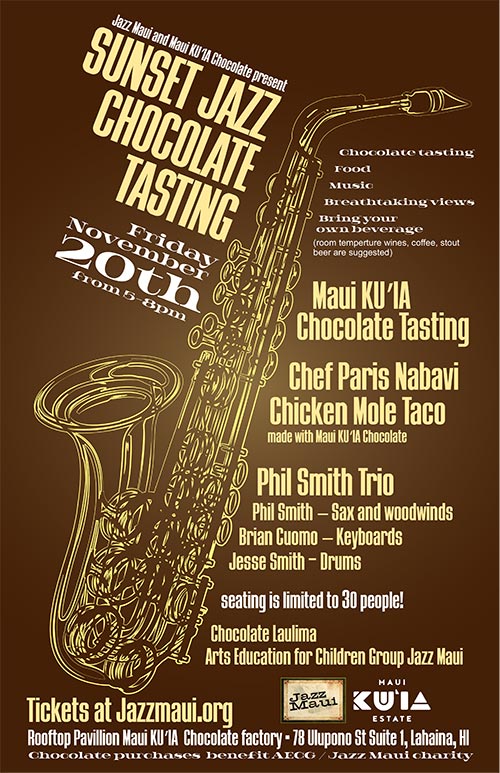 Jazz Maui Presents
An Evening of Jazz & Blues

Dinner & Show
Saturday, November 21th
6:00 – 8:00 PM
Live at the Empanada Lady in Wailuku Town
R. E. Metoyer Blues
Rock & Soul Revue
Featuring

Tim Hackbarth and Brian Cuomo
Opening Act

Jazz Maui Student Players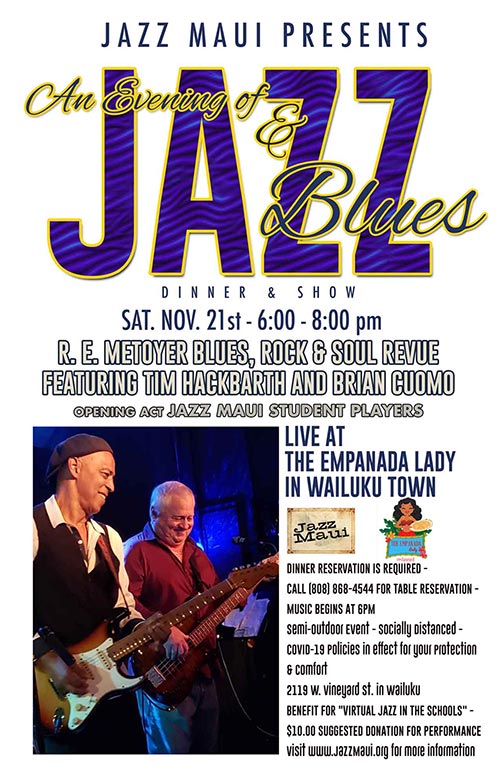 Jazz Maui Presents
An Evening of Jazz & Blues

Fundraiser Dinner & Show
Saturday, November 7th
6:00 – 8:00 PM
Live at the Empanada Lady in Wailuku Town
Gene Argel, Mark Johnstone
& Roscoe Wright
Opening Act
Jazz Maui Student Players
with Phil Smith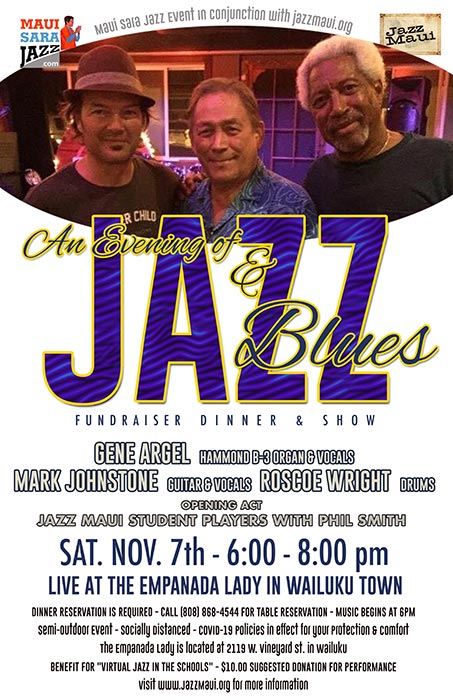 Jazz Maui Presents
Jazz at the Empanada Lady
Saturdays 6:30 PM
Dinner Reservations required
808-868-4544
2119 W Vineyard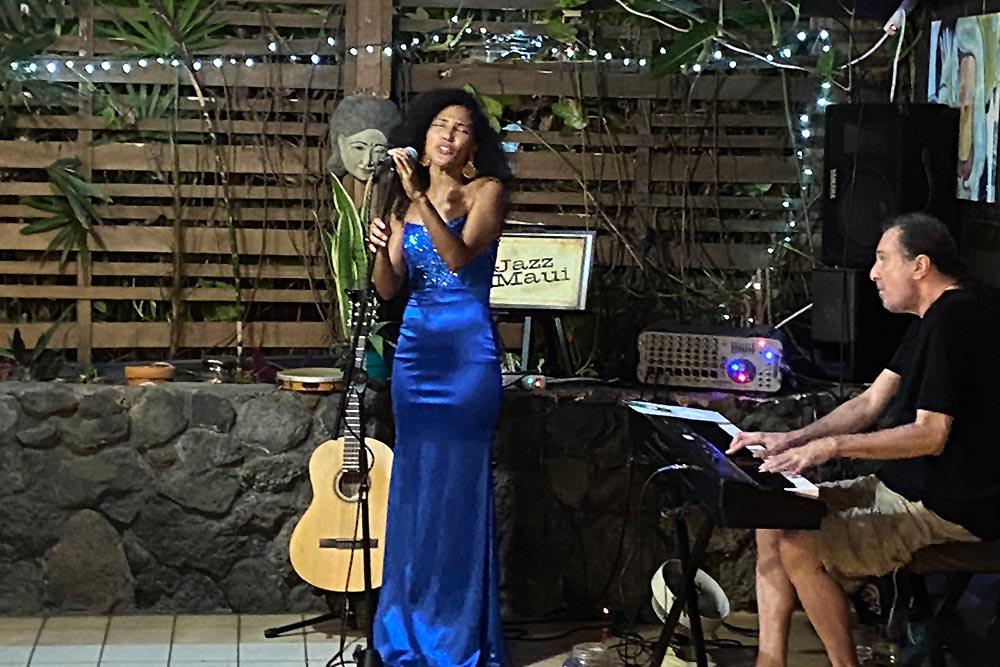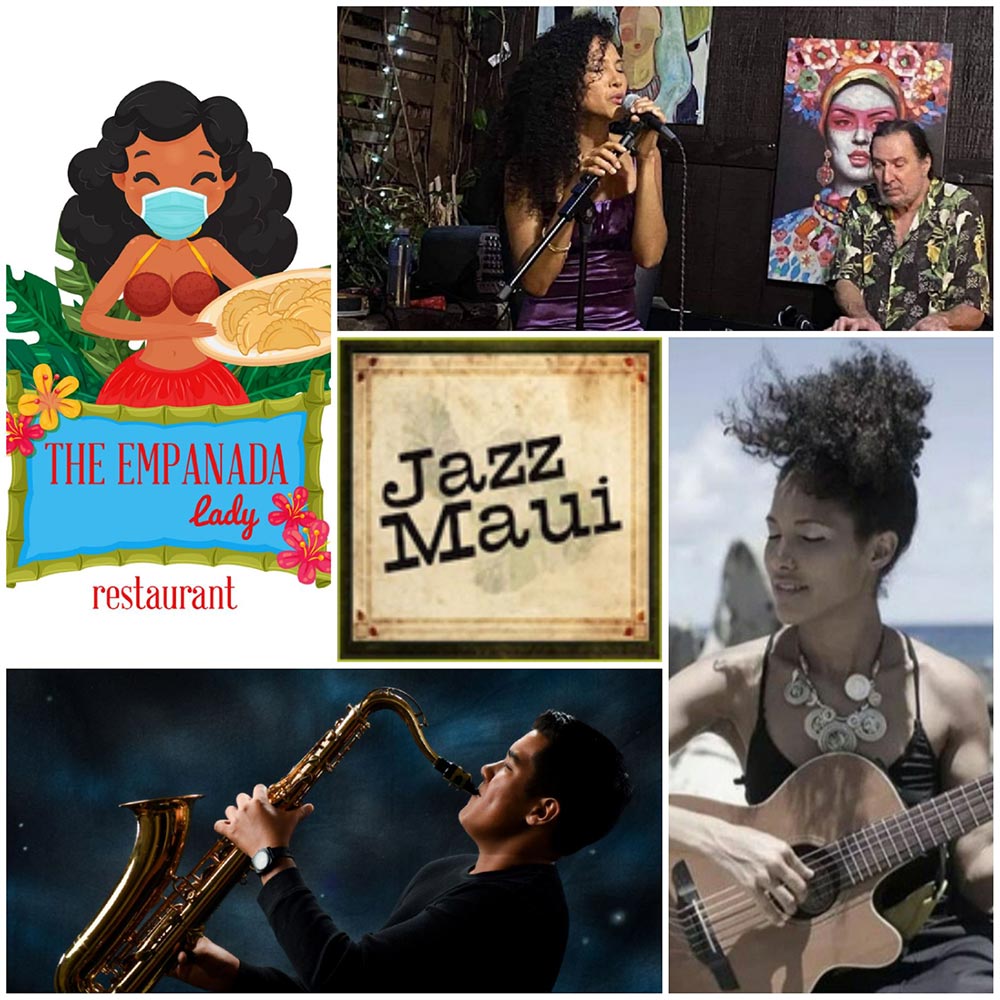 Jazz Maui Presents
A Musical Tribute to
Emil Richards
Saturday January 11, 2020
6PM – 9PM
The Altitude Deck 650 Lipoa Parkway- Rooftop at Kihei Charter School
Featuring:
Members of The Original "Jazz at Blackie's" Band & Special Guests
Musicians who played with Emil Richards at Blackie's Bar, Lahaina 1982 – 1995
Paul Marchetti- Drums
Sal Godinez – Keyboards & Vocals
John Zangrando – Saxophones
Danny M – Bass
Estaire Godinez – Vocals & Latin percussion
Gene Argel – Keyboards
Marcus Johnson – Bass
The Jazz Maui Players & Guests
A Memorial Tribute led by Sara Gadarian
Limited Seating – RSVP- $15  Tickets at Jazzmaui.org – 808-283-3576
Food will be available for purchase – Proceeds benefit Jazz Maui Music Education Program
Sponsors: MANAO Radio – South Maui Learning Ohana – Sara Gadarian – JAZZ MAUI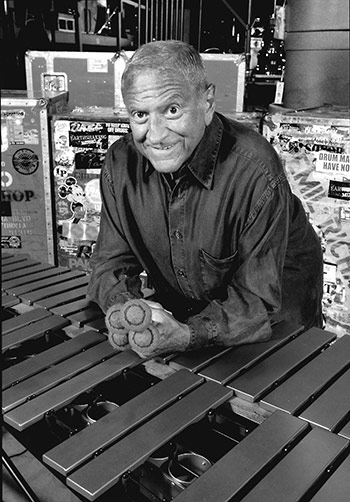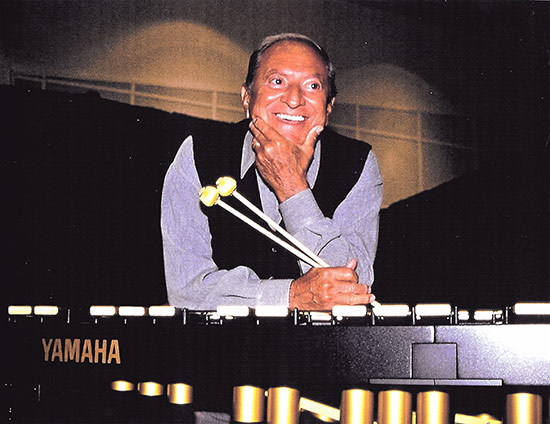 He snapped his fingers on 'The Addams Family,' played the bongos for 'Mission Impossible', played vibes on the Flintstones theme song and worked with everyone from Judy Garland to Linda Ronstadt.
Jazz Maui Players 6-7 PM
Peter Dela Croce – Percussion
Prem Brosio – Jazz Guitar
Danny M – Bass
Jake Thomas – Trumpet
Joie Yasha – Sax
Michael Guzalak – Sax, Clarinet
Tanama Colibri – Vocals
Shea Derrick – Vocals
Memorial Tribute to Emil Richards 7 – 7:20
Original "Jazz at Blackies" Band 7:30 – 9:00
Paul Marchetti- Drums
Sal Godinez – Keyboards & Vocals
John Zangrando – Saxophones
Danny M – Bass
Estaire Godinez – Vocals & Latin percussion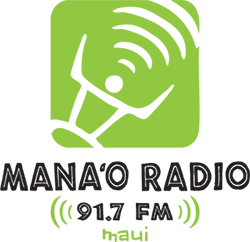 Jazz on Maui
See below for current Jazz happenings on Maui.
About Jazz Maui
Jazz Maui, a program of Arts Education for Children Group (AECG) nonprofit organization, provides an opportunity for island residents, music students, aspiring and professional musicians, and jazz music aficionados to participate in or attend high-quality jazz music performances. Through festivals, music clinics and dance workshops, Jazz Maui provides a venue for student performers to establish connections with recognized professionals in music and dance.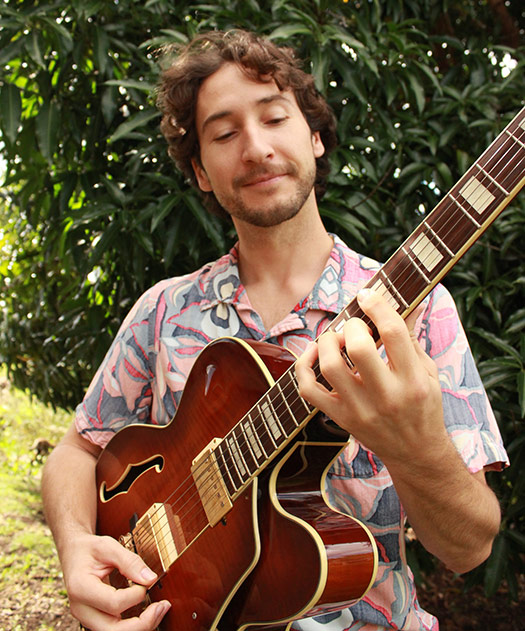 Questions? Call Jazz Maui Founder Bryant Neal at 808-283-3576

Jazz Maui Camp
June 22-24, 2020
This exciting new camp is designed for aspiring young musicians (13+) of all skill levels looking to unleash their creativity and explore the beauty of Hawaii. Instruction includes ensembles, master classes, electives and concerts from our award winning faculty. Daily music curriculum will be enhanced with Hawaiian immersion activities including Luau, Snorkeling, Beach time, History Tours and more. Come spend a fun filled week of music and culture in beautiful Maui.
Our professional instruction includes ensembles, master classes, electives and concerts from our award winning faculty. Collectively, they have performed at numerous prestigious venues including Birdland, Monterey Jazz Festival, The Blue Note, Montreux Jazz Festival, Walt Disney Concert Hall and tours in Asia, Europe, South America.
Katie Thiroux (Bass, Vocals) "Rising Star Bassist" – Downbeat Magazine www.katiethiroux.com
Matt Witek (Drums) "Witek is all class and groove." – All About Jazz www.mattwitek.com
Justin Kauflin (Piano) "Simply beautiful cat…you can feel it in every note he plays" – Quincy Jones www.justinkauflin.com
Jazz at the Shops

Outlets of Maui, 900 Front Street – 5pm

Enjoy music, food and fun!
featuring
Prem Brosio
Jake Thomas Quartet
King Kekaulike Na Ali'i Big Band
Mahalo to our supporters: Hawaii Tourism Authority, Arts Education for Children Group, and Outlets of Maui