Join Us for Our Next Event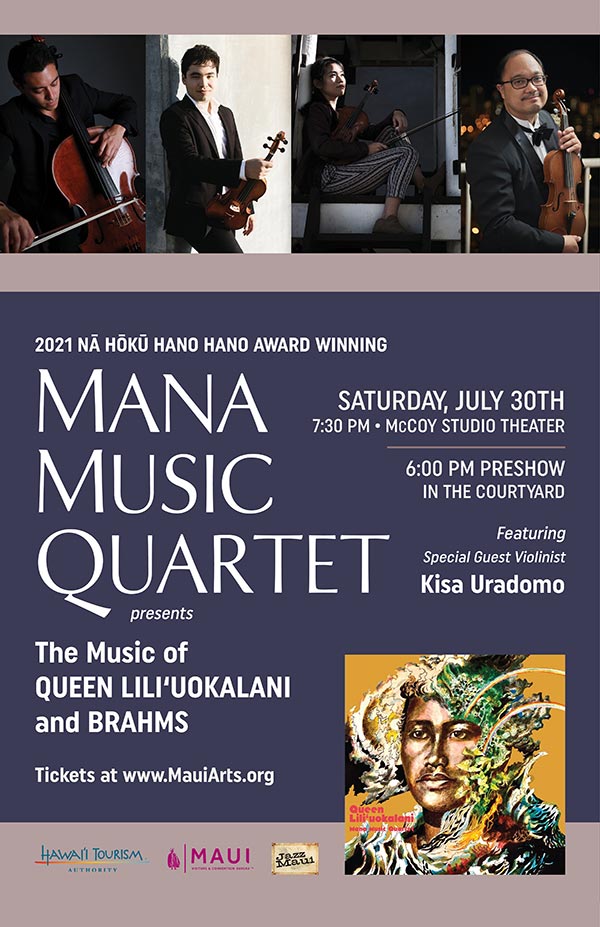 MANA MUSIC QUARTET presents
The Music of Queen Lili'uokalani and Brahms

The Mana Music Quartet (Eric Silberger & Mann-Wen Lo, violins; Duane Padilla, viola and Joshua Nakazawa, cello) presents music from their spectacular 2021 Nā Hōkū Hano Hano award for Best Instrumental Album for Queen Lili`uokalani. This first and only live presentation of their album will also include Brahms' epic String Quintet No. 2 Op 111 featuring special guest violinist Kisa Uradomo.
Mana Music String Quartet at "The Pikake House"
TICKETS:
$35, $45, ($25 Students 18 & under w/ID)
(all plus applicable fees)

ADVANCE TICKET SALES ARE ONLINE ONLY
The MACC Box Office is currently not open for window sales. Box Office hours for inquiries via email and phone (808-242-SHOW) are Tuesday – Friday, 10:00 am to 4:00 pm. It is recommended that the print-at-home (or viewable on mobile devices) option is selected to minimize delays entering the venues night-of-show. Box Office windows open two hours prior to show time for sales and will call pickup.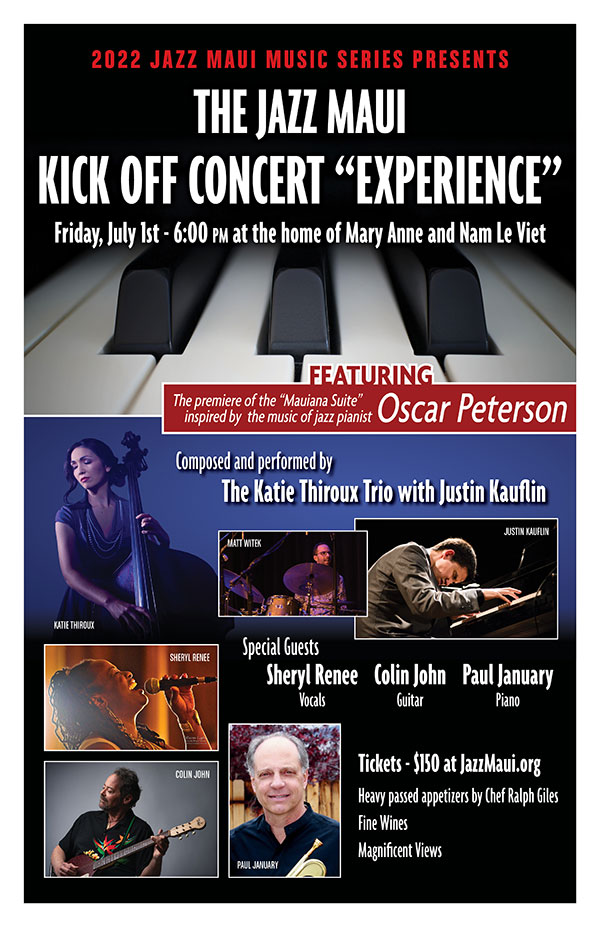 Jazz Maui Music Series presents

The Jazz Maui Kick off Concert "Experience"
featuring
The premiere of the "Mauiana Suite" inspired by the music of jazz pianist Oscar Peterson
Composed and performed by

The Katie Thiroux Trio with Justin Kauflin

Special Guests
Sheryl Renee, Vocals
Colin John, Guitar
Paul January, Piano
Friday, July 1st at 6:00 PM
Home of Mary Anne & Nam Le Viet 
Tickets – $150
Heavy passed appetizers by Chef Ralph Giles
Fine Wines
Magnificent Views

2022 Jazz Maui Music Series presents
The 3rd Annual Jazz, Blues And Beyond Concert
featuring
Lee Norris and Concept 4
The Jake Thomas Quartet
The Colin John Blues Band
Special Guests
Jazz and Blues vocalist Sheryl Renee
Blues Artist R.E. Metoyer
Saturday, July 2nd at The Altitude Deck
Doors Open 5:00 pm
Tickets – $20
Vegan and Meat Pupus for sale by The Empanada Lady
Bring your own beverage (Limited to wine and beer only) – $10 corkage fee purchased with ticket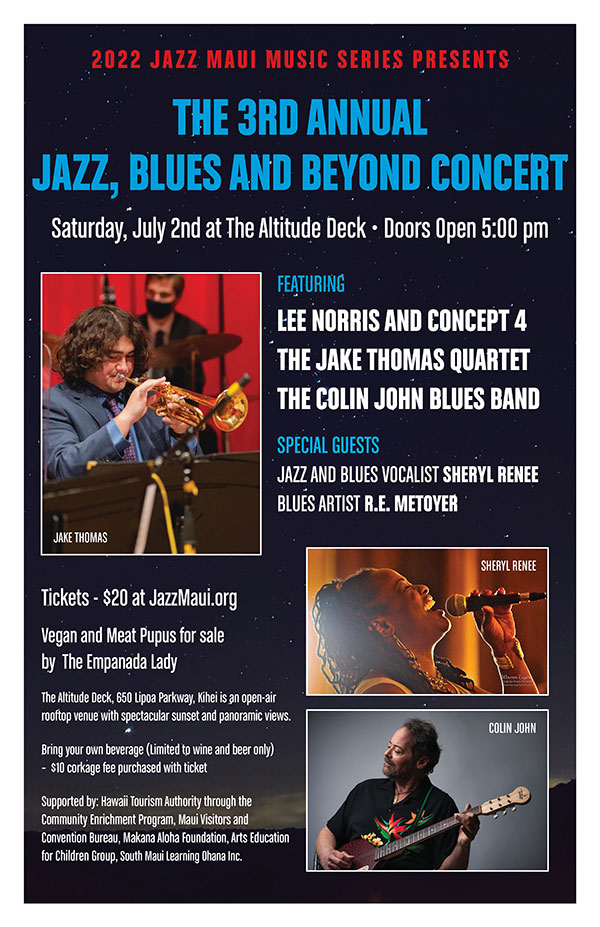 Jake Thomas
Hailing from Haiku, Jake Thomas is a New York based trumpet player, composer, and arranger. He has performed at landmark jazz venues including Dizzy's Club, Birdland, The Django, and Blue Note Hawai'i. Thomas has shared the stage with musical luminaries including the Birdland Big Band, Delfeayo Marsalis, and Samara Joy.
Thomas has just finished his third year at SUNY Purchase, and as a student of trumpet legend Jon Faddis, he plays lead trumpet with both the Purchase Jazz Orchestra and the Purchase Latin Jazz Orchestra.
Jake has recently returned to the islands from Chicago where he was invited to be one of Ravinia Music Festival's jazz fellows. In addition to collaborating with some of the most talented up and coming musicians of his generation, he had the opportunity of working closely with established jazz legends Rufus Reid, Billy Childs, and Steve Wilson.
Jake will return to study with Jon Faddis, Gary Smulyan, Ralph Lalama and the rest of the esteemed faculty of Jazz at Purchase College in the fall.
Learn more about the artists by visiting the links below.
SherylRenee.com
ColinJohnMusic.net
__________
The Altitude Deck, 650 Lipoa Parkway, Kihei is an open-air rooftop venue with spectacular sunset and panoramic views.
Supported by: Hawaii Tourism Authority through the Community Enrichment Program, Maui Visitors and Convention Bureau, Makana Aloha Foundation, Arts Education for Children Group, South Maui Learning Ohana Inc.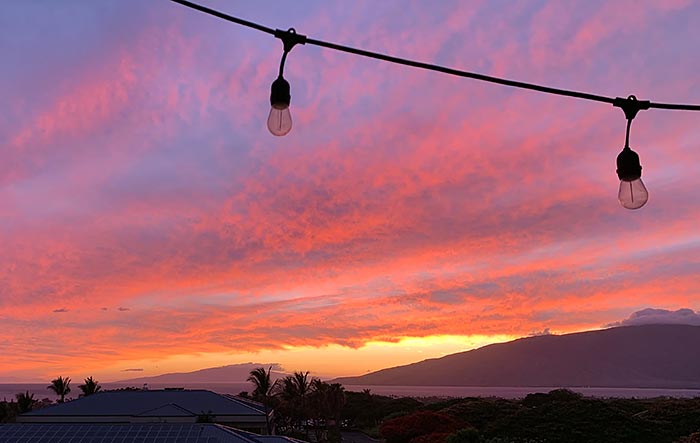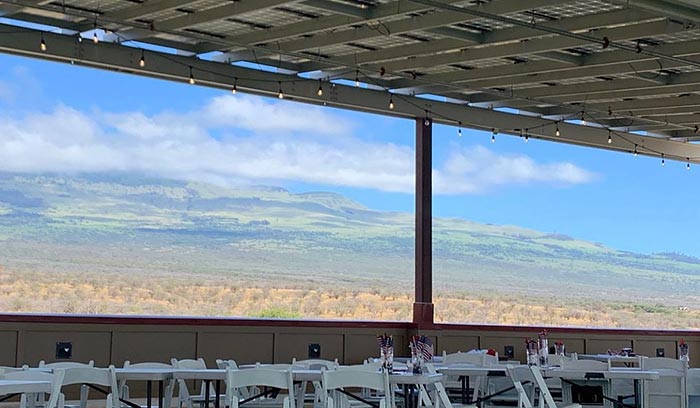 In Celebration of July 4th
JOIN US FOR A FREE COMMUNITY CONCERT
2022 July 4th Concert in the Park
Music starts at 5:00 PM
James Campbell Park
684 Front St. • Lahaina, Maui
Bring your own low back beach chairs and mats for seating
Enjoy Fireworks & Performances by:
Chop Suey Jazz Orchestra
Na Ali'i Big Band
Maui Community Band
Supported by:
Rotary Club of Lahaina Sunrise, Lahaina Restoration Foundation, Arts Education for Children Group, Lahaina Town Action Committee, Hawai'i Tourism Authority through the Community Enrichment Program, Maui Visitors and Convention Bureau, County of Maui
Jazz Maui Virtual Music Series
The series includes three themed concerts featuring professional guest and local musicians. All concerts are free and will be streamed at 8PM on Friday October 22, Friday November 26, and Friday December 17, 2021 here at JazzMaui.org,

AKAKU Channel 55

, and our Jazz Maui Facebook Page.   
December 17 – Jazz featuring Classical Instruments
with Members of Maui Youth Philharmonic Orchestra, Maui Flute Choir,

Sharp Four Jazz Quartet with Mark Johnstone

, and Phil Smith Trio

November 26 – Jazz with Ukulele and the Hawaiian Steel Guitar
with Benny Uyetake Band, Joel Katz Band, Kamalei Kawaa, Seabury Hall Hawai'ian Ensemble, Tanama Colibri, and Phil Smith
October 22 – "Jazz Blues and Beyond II"
featuring Katie Thiroux Trio with Quincy Jones protégé Justin Kauflin
Katie Thiroux is an internationally-acclaimed bassist, vocalist, composer, bandleader and recording artist. Thiroux's contemporary jazz draws upon the rich history of the music and her unique gift of simultaneously balancing sultry vocals and virtuosic bass playing leaves audiences worldwide in awe. In the words of music icon Quincy Jones, "This girl is IT!"
Watch Our Exclusive "Save the Music" Virtual Gala!
A live event held on Friday October 30, 2020

A Benefit to support "Virtual Jazz In the Schools"

Virtual Jazz in the Schools, is a live online learning program, focusing on jazz instruction and performance. The program is designed as a supplement to the in-school music program. Click to learn more.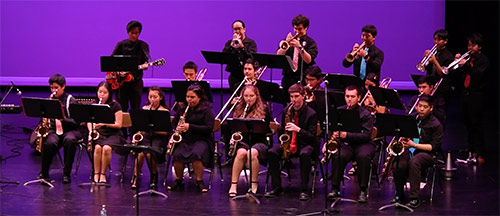 BUY CHOCOLATE & SUPPORT AECG
Chocolate Laulima
The Arts of Education for Children Group (AECG) has partnered with Maui KU'IA Estates to offer you an assortment of delicious chocolates. These gift bags and gift box make great presents for friends and family or can be a special treat for yourself to enjoy. Proceeds from these specific products benefit AECG.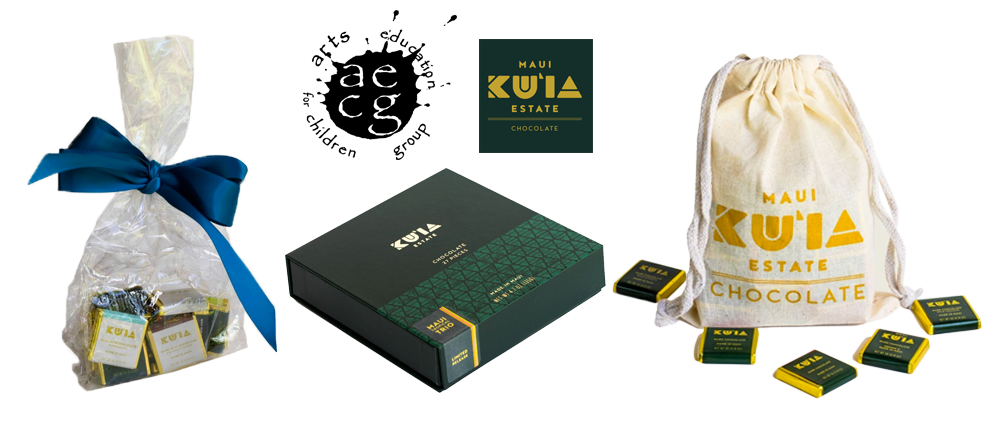 Jazz Maui Presents
Jazz at the Empanada Lady
Saturdays 6:30 PM
Dinner Reservations required
808-868-4544
2119 W. Vineyard Street in Wailuku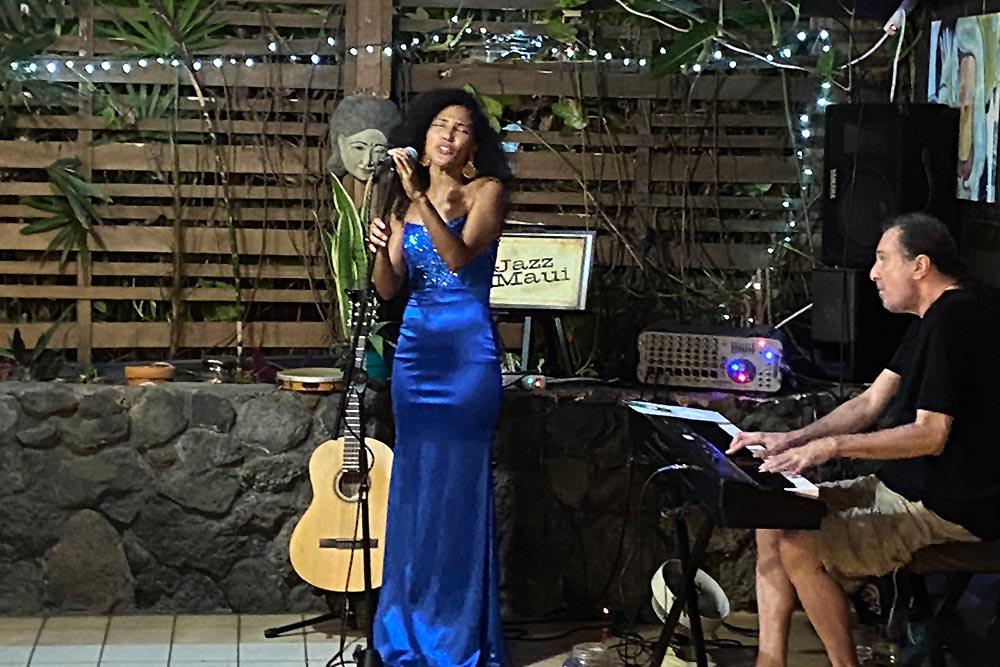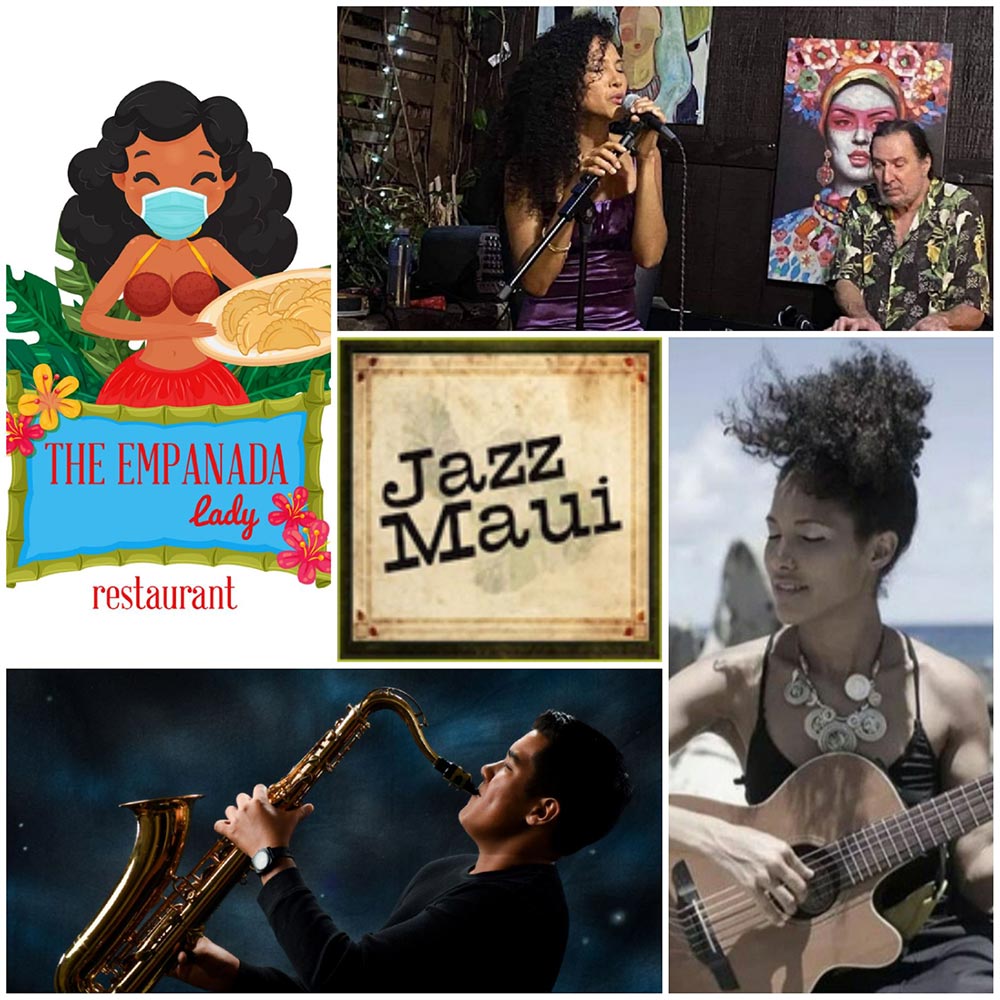 About Jazz Maui
Jazz Maui, a program of Arts Education for Children Group (AECG) nonprofit organization, provides an opportunity for island residents, music students, aspiring and professional musicians, and jazz music aficionados to participate in or attend high-quality jazz music performances. Through festivals, music clinics and dance workshops, Jazz Maui provides a venue for student performers to establish connections with recognized professionals in music and dance.
Questions? Call Jazz Maui Founder Bryant Neal at 808-283-3576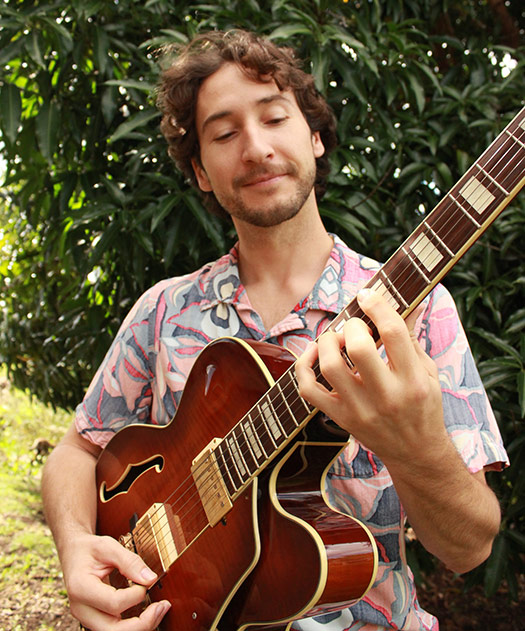 Jazz at the Shops

Outlets of Maui, 900 Front Street – 5pm

Enjoy music, food and fun!
featuring
Prem Brosio
Jake Thomas Quartet
King Kekaulike Na Ali'i Big Band
Mahalo to our supporters: Hawaii Tourism Authority, Arts Education for Children Group, and Outlets of Maui