Join Us for Our Next Event
JAZZ MAUI PRESENTS
SUNSET JAZZ SERIES
Sundays • 5-7 PM
Maui Ku'ia Estate Chocolate Factory
78 Ulupono Street, Lahaina
Sunset Jazz spotlights an all-star line-up of local and visiting professional jazz musicians in the upstairs open air pavilion. Different artists perform each week and the music is always top-notch.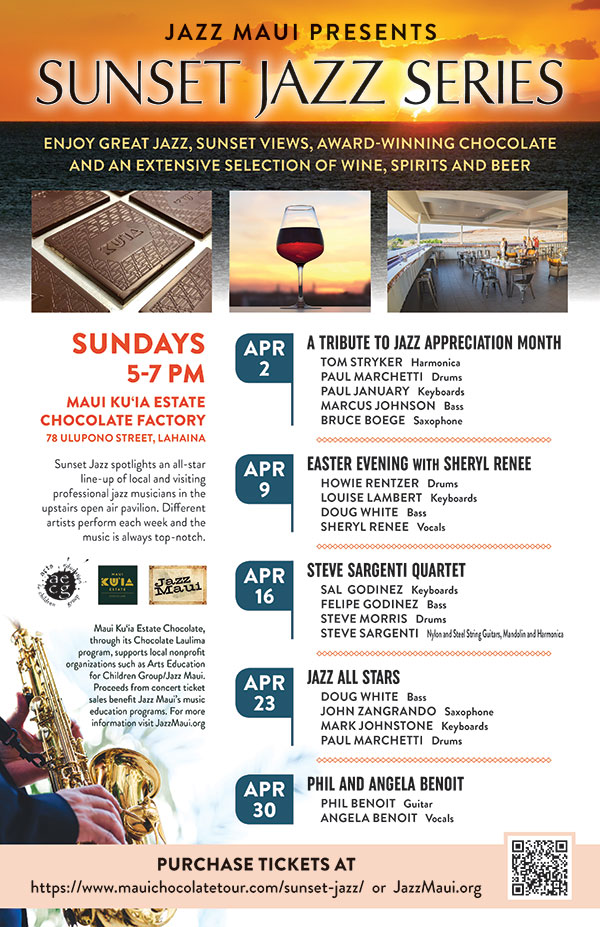 April 2
A Tribute to Jazz Appreciation Month
Tom Stryker – Harmonica
Paul Marchetti – Drums
Paul January – Keyboards
Marcus Johnson – Bass
Bruce Boege – Saxophone
April 9
Easter Evening with Sheryl Renee
Howie Rentzer – Drums
Louise Lambert – Keyboards
Doug White – Bass
Sheryl Renee – Vocals
April 16
Steve Sargenti Quartet
Sal Godinez – Keyboards
Felipe Godinez – Bass
Steve Morris – Drums
Steve Sargenti – Nylon and Steel String Guitars, Mandolin and Harmonica
April 23
Jazz All Stars
Doug White – Bass
John Zangrando – Saxophone
Mark Johnstone – Keyboards
Paul Marchetti – Drums
April 30
Phil and Angela Benoit
Phil Benoit – Guitar
Angela Benoit – Vocals
Maui Ku'ia Estate Chocolate, through its Chocolate Laulima program, supports local nonprofit organizations such as Arts Education for Children Group/Jazz Maui. Proceeds from concert ticket sales benefit Jazz Maui's music education programs.
Jazz Maui Virtual Music Series
The series includes three themed concerts featuring professional guest and local musicians. All concerts are free and will be streamed at 8PM on Friday October 22, Friday November 26, and Friday December 17, 2021 here at JazzMaui.org,

AKAKU Channel 55

, and our Jazz Maui Facebook Page.   
December 17 – Jazz featuring Classical Instruments
with Members of Maui Youth Philharmonic Orchestra, Maui Flute Choir,

Sharp Four Jazz Quartet with Mark Johnstone

, and Phil Smith Trio

November 26 – Jazz with Ukulele and the Hawaiian Steel Guitar
with Benny Uyetake Band, Joel Katz Band, Kamalei Kawaa, Seabury Hall Hawai'ian Ensemble, Tanama Colibri, and Phil Smith
October 22 – "Jazz Blues and Beyond II"
featuring Katie Thiroux Trio with Quincy Jones protégé Justin Kauflin
Katie Thiroux is an internationally-acclaimed bassist, vocalist, composer, bandleader and recording artist. Thiroux's contemporary jazz draws upon the rich history of the music and her unique gift of simultaneously balancing sultry vocals and virtuosic bass playing leaves audiences worldwide in awe. In the words of music icon Quincy Jones, "This girl is IT!"
Watch Our Exclusive "Save the Music" Virtual Gala!
A live event held on Friday October 30, 2020

A Benefit to support "Virtual Jazz In the Schools"

Virtual Jazz in the Schools, is a live online learning program, focusing on jazz instruction and performance. The program is designed as a supplement to the in-school music program. Click to learn more.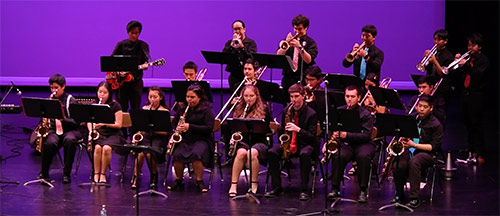 BUY CHOCOLATE & SUPPORT AECG
Chocolate Laulima
The Arts of Education for Children Group (AECG) has partnered with Maui KU'IA Estates to offer you an assortment of delicious chocolates. These gift bags and gift box make great presents for friends and family or can be a special treat for yourself to enjoy. Proceeds from these specific products benefit AECG.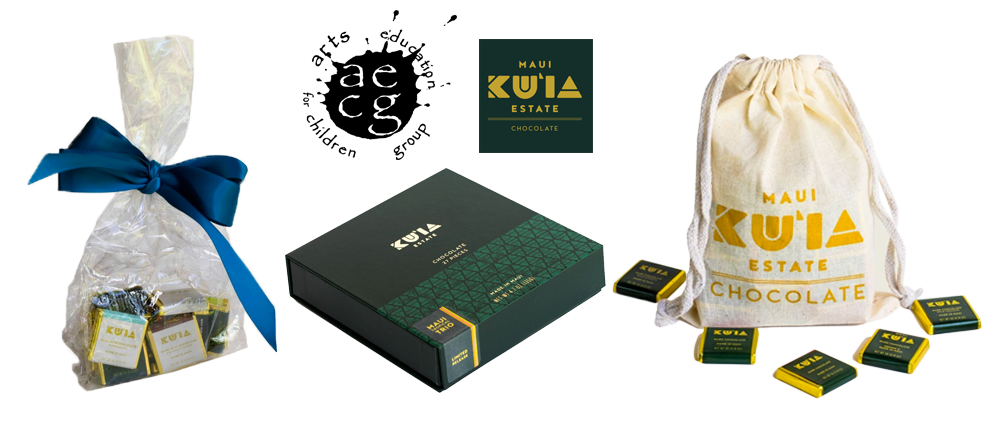 Jazz Maui Presents
Jazz at the Empanada Lady
Saturdays 6:30 PM
Dinner Reservations required
808-868-4544
2119 W. Vineyard Street in Wailuku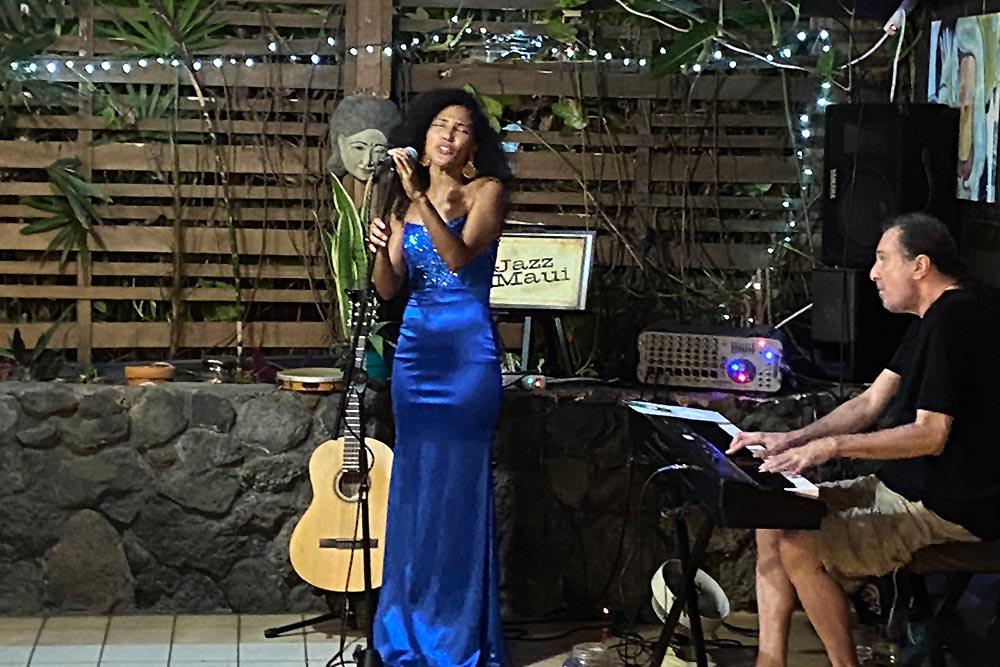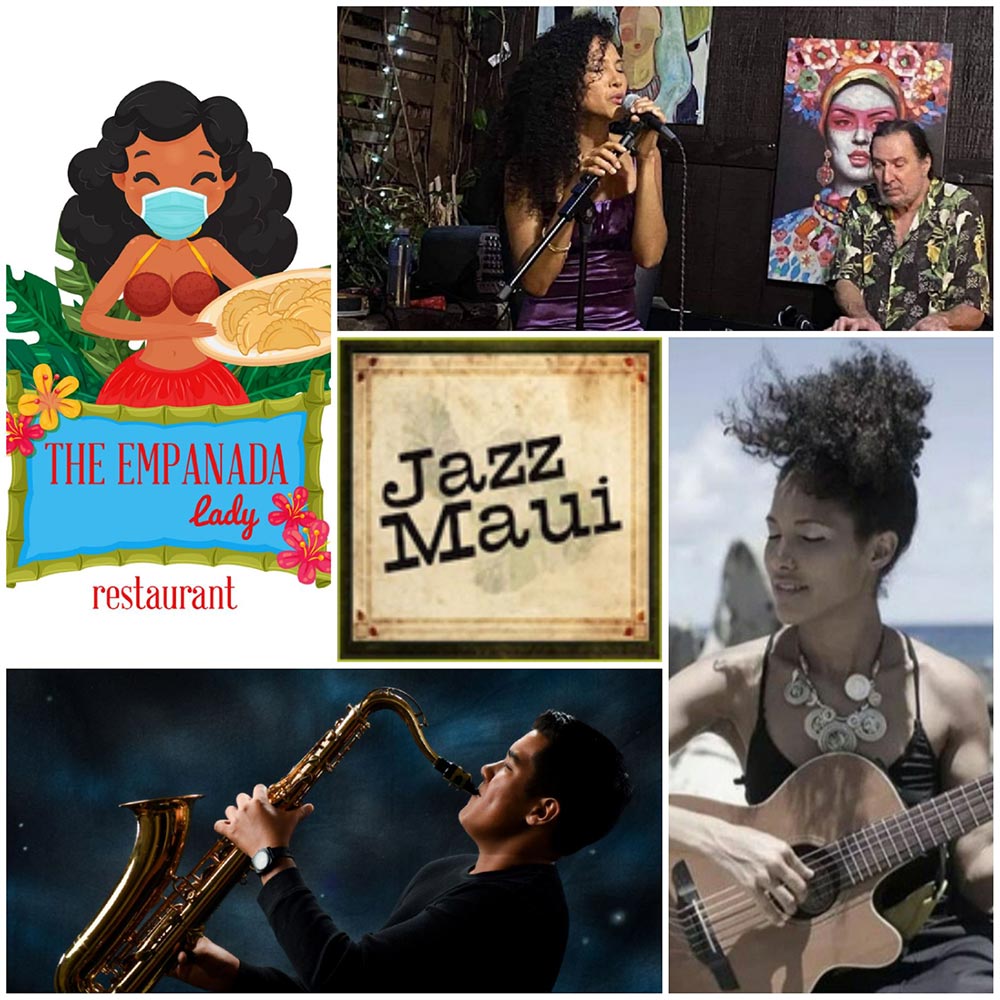 About Jazz Maui
Jazz Maui, a program of Arts Education for Children Group (AECG) nonprofit organization, provides an opportunity for island residents, music students, aspiring and professional musicians, and jazz music aficionados to participate in or attend high-quality jazz music performances. Through festivals, music clinics and dance workshops, Jazz Maui provides a venue for student performers to establish connections with recognized professionals in music and dance.
Questions? Call Jazz Maui Founder Bryant Neal at 808-283-3576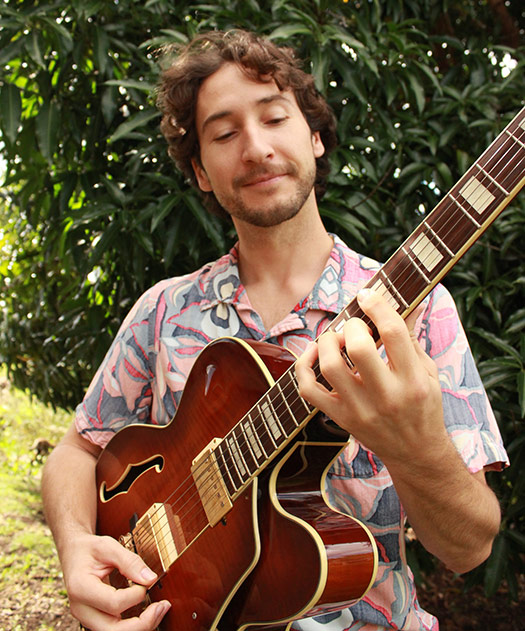 Jazz at the Shops

Outlets of Maui, 900 Front Street – 5pm

Enjoy music, food and fun!
featuring
Prem Brosio
Jake Thomas Quartet
King Kekaulike Na Ali'i Big Band
Mahalo to our supporters: Hawaii Tourism Authority, Arts Education for Children Group, and Outlets of Maui