Join Us for Our Next Event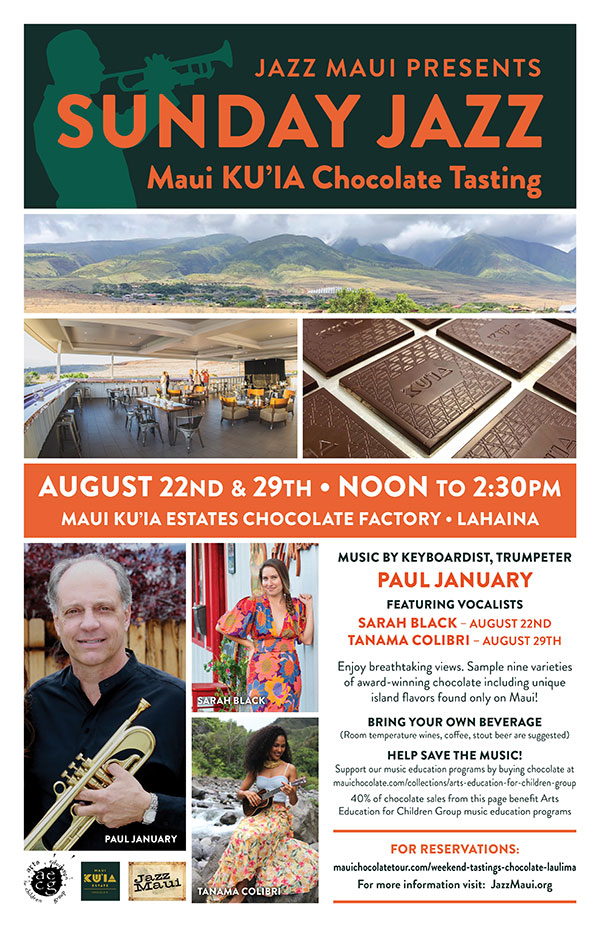 SUNDAY JAZZ
AUGUST 22ND & AUGUST 29TH

Jazz Maui Presents

SUNDAY JAZZ
Maui KU'IA Chocolate Tasting
AUGUST 22ND & 29TH
NOON TO 2:30PM
MAUI KU'IA ESTATES CHOCOLATE FACTORY • LAHAINA

MUSIC BY KEYBOARDIST, TRUMPETER
PAUL JANUARY
FEATURING VOCALISTS
SARAH BLACK – AUGUST 22ND
TANAMA COLIBRI – AUGUST 29TH

Enjoy breathtaking views. Sample nine varieties of award-winning chocolate including unique island flavors found only on Maui!
BRING YOUR OWN BEVERAGE
(Room temperature wines, coffee, stout beer are suggested)
HELP SAVE THE MUSIC!
Support our music education programs by buying chocolate at mauichocolate.com/collections/arts-education-for-children-group
40% of chocolate sales from this page benefit Arts Education for Children Group music education programs
Watch Our Exclusive "Save the Music" Virtual Gala!
A live event held on Friday October 30, 2020

A Benefit to support "Virtual Jazz In the Schools"

Virtual Jazz in the Schools, is a live online learning program, focusing on jazz instruction and performance. The program is designed as a supplement to the in-school music program. Click to learn more.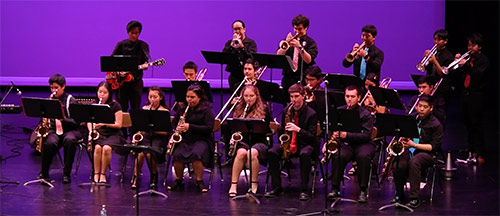 BUY CHOCOLATE & SUPPORT AECG
Chocolate Laulima
The Arts of Education for Children Group (AECG) has partnered with Maui KU'IA Estates to offer you an assortment of delicious chocolates. These gift bags and gift box make great presents for friends and family or can be a special treat for yourself to enjoy. Proceeds from these specific products benefit AECG.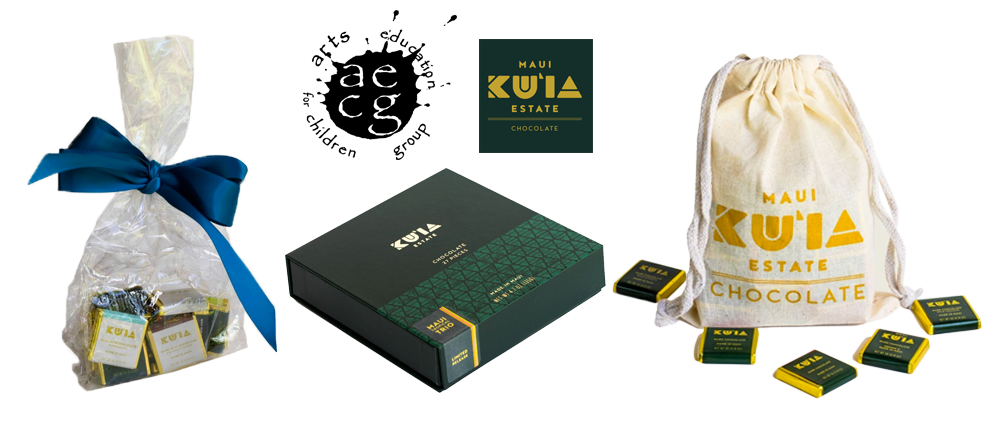 Jazz Maui Presents
Jazz at the Empanada Lady
Saturdays 6:30 PM
Dinner Reservations required
808-868-4544
2119 W. Vineyard Street in Wailuku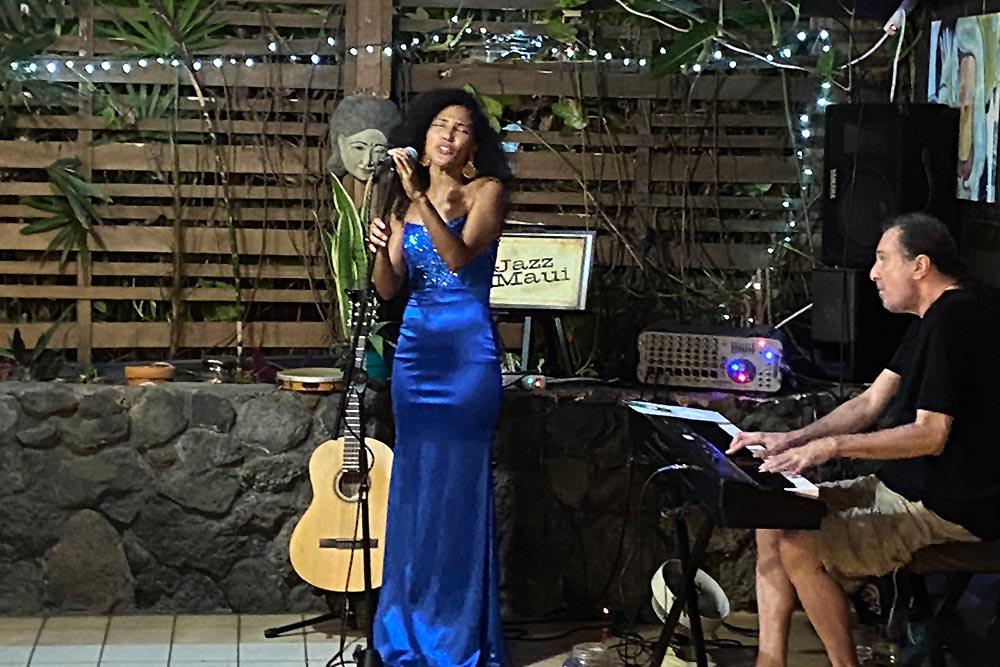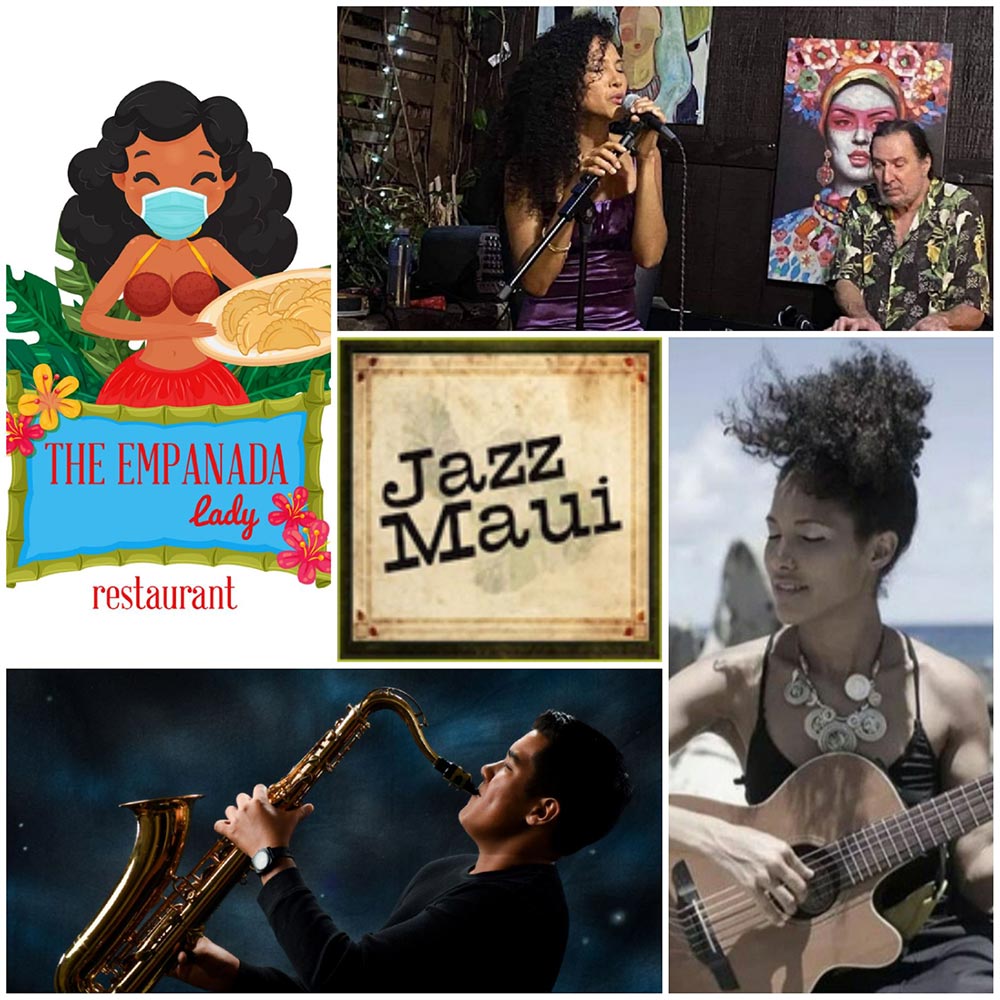 About Jazz Maui
Jazz Maui, a program of Arts Education for Children Group (AECG) nonprofit organization, provides an opportunity for island residents, music students, aspiring and professional musicians, and jazz music aficionados to participate in or attend high-quality jazz music performances. Through festivals, music clinics and dance workshops, Jazz Maui provides a venue for student performers to establish connections with recognized professionals in music and dance.
Questions? Call Jazz Maui Founder Bryant Neal at 808-283-3576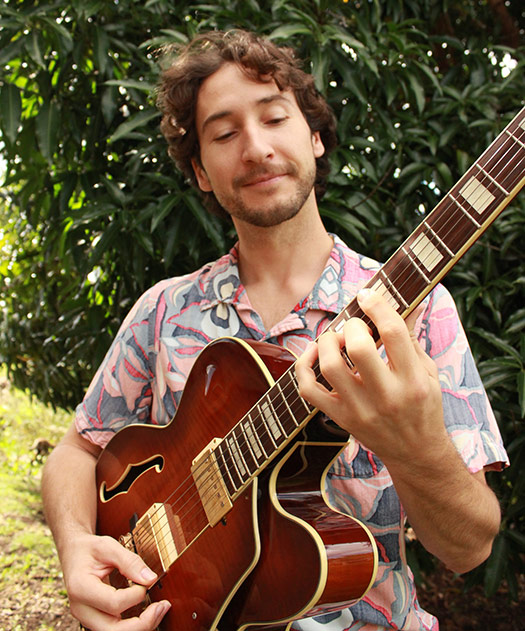 Jazz at the Shops

Outlets of Maui, 900 Front Street – 5pm

Enjoy music, food and fun!
featuring
Prem Brosio
Jake Thomas Quartet
King Kekaulike Na Ali'i Big Band
Mahalo to our supporters: Hawaii Tourism Authority, Arts Education for Children Group, and Outlets of Maui