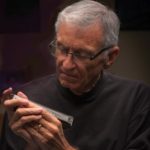 Tom received his first harmonica at the age of 15 in San Francisco as a Christmas gift.  It was then he engaged former "Harmonica Rascal" Ray Tankersley to teach him to play.   
Tom played lead with the "Harmonica Express," and the world famous "Johnny Puleo Harmonica Gang.".  Tom then went on to perform around the world on his own, also performing with the Harmonica Aces on Holland America Cruises Lines to South America.  He is continues to perform as a soloist in Asia including China.  Tom also performs in the Reno area clubs/restaurants and at Jazz Festivals along with Jazz Bands and Symphonies worldwide.
Tom recently recorded a CD Album, "EastCollaboration" with the great Tony Luisi.
A strong supporter of the harmonica movement, Tom joined "SPAH," The Society For The Preservation and Advancement of the Harmonica in 1980.  He was President of SPAH from 2006 to 2012  with members worldwide.