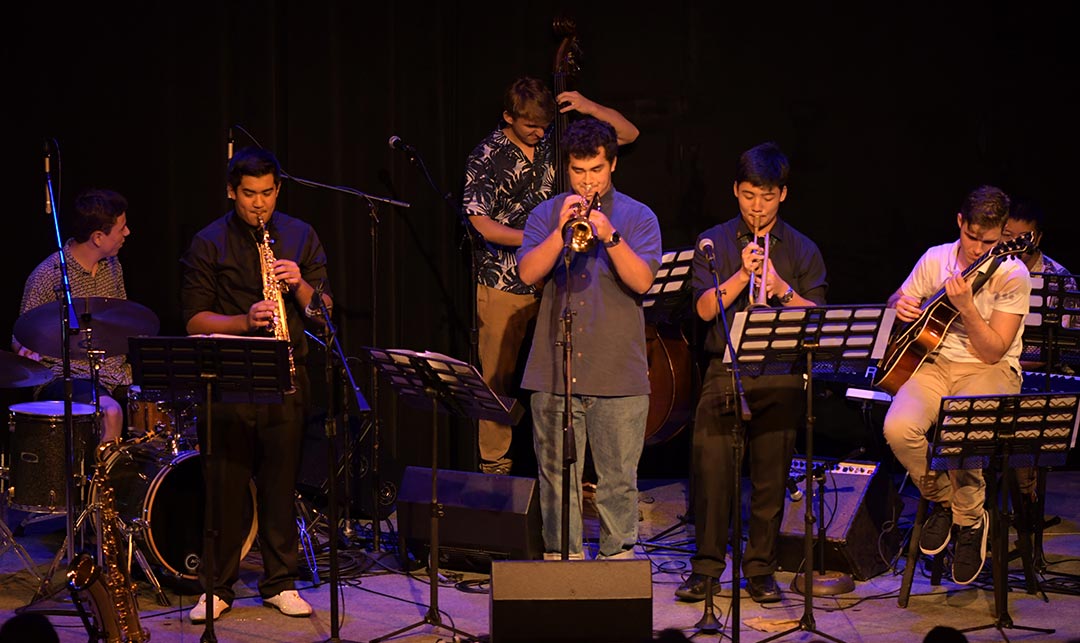 One of the most exceptional and distinctive jazz education experiences offered anywhere on the globe!"
– Paul Contos (Monterey Jazz Festival Education Director)

Jazz Maui
presents
"Virtual Jazz in the Schools"
Virtual Jazz in the Schools, is a live online learning program, focusing on jazz instruction and performance. The program is designed as a supplement to the in-school music program.
Our mission:
Help educators supplement their music program with assistance in navigating the virtual landscape with specialized knowledge and experience
Help students improve on their instruments, learn about jazz music in depth, gain skills to perform and create music
Each faculty member is a specialist and are internationally renowned. (see faculty bios)
Virtual Jazz in the Schools
Online Virtual Schedule
We propose two (2) meetings per week as follows:
DAY 1
Instrument Specific Masterclass and Sectionals (60 minutes)
Each faculty member will hold a 1 hour masterclass on their specific specialty. The faculty will demonstrate essential skills for being a well-rounded musician including proper technique, sight reading, repertoire selection, playing in a section etc. Students can send specific questions directly to the faculty so that they can address their needs.
Specific Instruments:
Woodwinds (saxophones, clarinets, flutes)
Brass (trumpets, trombones, tubas)
Piano
Bass
Drumset and Percussion
Another use of this time is to split the group into sectionals where the faculty can work with the woodwinds and brass together and then work only with the rhythm section of piano, bass and drums to further demonstrate their section role.
DAY 2
Special Jazz Topics Courses and Full Class Meeting 
Special Jazz Topics Course (60 minutes)
We are excited to offer three (3) different special jazz topics for the beginner, intermediate and advanced level student. The objective is to work with students throughout the semester and have a final project to present at the end of the year.
The courses are as follows:
BEGINNER "How to Compose for Beginners"
During this course students will learn the basics of song form and structure, melody and harmony. Students will learn how to compose a melody using the blues form, write backgrounds and arrange it for multiple instruments so that they can play it with their friends and fellow students!
INTERMEDIATE "Jazz Improvisation for Beginning/Intermediate
Students will get the tools they need to take the mystery out of improvisation! Students will learn how to solo using their ear, transcription, theory and "call and response" with faculty. They will get the confidence they need to look at a beginning to intermediate piece of music and start to identify simple jazz harmony to create an improvised solo.
ADVANCED "Arranging for a Small Ensemble"
Each week the faculty will demonstrate and give step by step instruction on how to take a melody and arrange it for a small group, create backgrounds, intros, interludes and endings. This gives students an enormous amount of confidence because they gain the theoretical knowledge to arrange and become self-reliant, no longer having to depend on charts that someone else wrote.
Full Class Meeting (30 Minutes)
This is a time for students to come together as a community with the faculty and ask questions they have about jazz and discuss what they learned during the week in a safe and encouraging environment. Faculty members will also provide playlists of important jazz music and videos which will be presented and discussed. Students will gain a deeper understanding of what they should listen for in music and the ability to start identifying specific musicians, chord progressions and songs just by listening.
Final Presentations
This will serve as a culmination of what the students have learned. Students can upload examples online of what they have done for their topics / courses and share it with the faculty and students. Students will upload tracks of their composition, improvisation or arrangement that they created. This way, students will walk away with something physical to show for their time as well and be enthused to attend Jazz Maui Camp 2021! We hope to not only teach high level jazz knowledge but to create a community amongst the students where they help each other outside of school with their projects and share their new knowledge with their families and the community.
Proposed Schedule
3:00-4:00pm on Thursdays and Fridays
Week 1: November 5 & 6
Week 2: November 19 & 20
Week 3: December 3 & 4
Week 4: December 17 & 18
Week 5: January 7 & 8
Week 6: January 21 & 22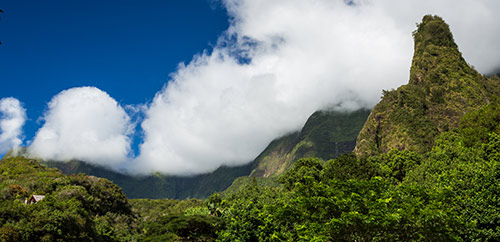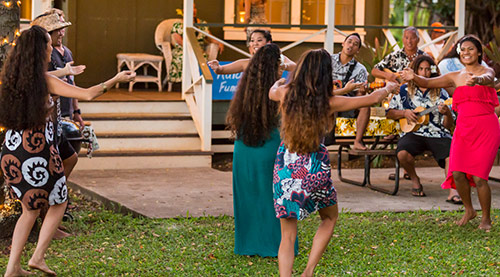 We look forward to working with you!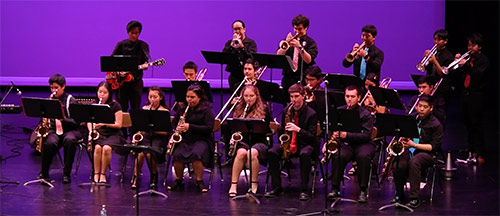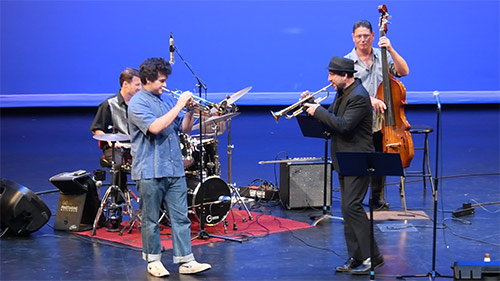 Faculty Bios
Katie Thiroux – Bass, Voice and Rhythm Section
Katie Thiroux is a jazz bassist and vocalist from Los Angeles, CA. Thiroux has ten plus years as a qualified music educator at Berklee College of Music, Mt San Antonio College, Colburn School, Monterey Jazz Festival and specialized workshops worldwide. Over the last ten years Katie has maintained a steady international performing and recording career as a Jazz Bassist and Vocalist. Most recently, Thiroux was appointed by the Monterey Jazz Festival to be the director of "Women In Jazz." This audition based program offers talented young women worldwide the experience to gather many times throughout the year to better their musical skills. Both experiences have prepared her to work with people of diverse backgrounds and engage from a global perspective. Thiroux has given international jazz workshops in Spain, Denmark, England, Singapore, Mexico and Serbia. Currently, Thiroux's private online studio of bass and vocal students has participants from all over the U.S. and Egypt, Ireland, India, Virgin Islands and Mexico.
Matt Witek – Drumset, Percussion and Rhythm Section
Matt Witek is an in demand jazz drummer and educator from Los Angeles, CA. After graduating from Berklee College of Music with a degree in Music Education, he was asked to be a professor at Berklee's international sister university in Quito, Ecuador. After returning state side and receiving his Masters in Music, Witek began touring internationally with some of the industries leading jazz artists: John Pizzarelli, Larry Fuller, John Clayton and much more. Matt has given drum workshops at schools and universities across the US and internationally at prestigious conservatories. Matt is a credentialed music educator and held the position of jazz band director at Laguna Beach Unified Schools. Witek also works closely with the Monterey Jazz Festival as Traveling Clinician in their Jazz in the Schools program.
Justin Kauflin – Piano and Rhythm Section
Justin Kauflin is an award-winning American jazz pianist, composer, producer, educator and Quincy Jones & Yamaha artist. Justin maintains a full international touring and teaching schedule and has been blind since age eleven. Kauflin says, "Being blind is only a part of who we are … it should never be something that defines us."
Justin was the a main focus in the award winning documentary, Keep On Keepin' On, that followed his relationship with the legendary trumpeter, Clark Terry. Terry was passionate about jazz education and now Kauflin travels the world presenting the film and helping students reach their potential.
Paul Contos – Woodwinds
Paul Contos specializes in woodwind instruments, Big Band direction and has over 30 years experience as an educator. He is the recipient of numerous awards, most recently Downbeat Magazine "Educator of the Year" award and is recognized internationally as a music education specialist. Contos is the director of the SF JAZZ High School Big Band and is on faculty at UC Santa Cruz, California State University Monterey Bay. Contos served as the Director of Education for Monterey Jazz Festival for fifteen years and is the recipient of three performance grants from the National Endowment for the Arts. Along with his international reach, Contos also conducts jazz workshops every year in Japan and Tokyo.
Kyle Athayde – Brass
Kyle Athayde is a San Francisco Bay Area based composer, arranger, performer, teacher, and bandleader. A native of Orinda, California, Kyle specializes in brass instruments and is also proficient on vibraphone and Latin percussion. Kyle has his own big band and  is a sought  after arranger for large ensembles having written for Juilliard, Lincoln Center and much more.  Committed to interdisciplinary educational outreach in the arts, Kyle has offered classes, clinics, lessons and masterclasses at schools, workshops, and camps in California, New York, Pennsylvania, Texas, and Alaska.  A regular visiting faculty member of the Sitka Fine Arts Camp, he recently developed and taught a class on video game music history and composition there, and directed the jazz band and a vocal hip hop class.  He is the Director of Curriculum at the Lafayette Summer Music Workshop, and regularly offers clinics and masterclasses to middle school and high school bands throughout Northern California.
Ryan Dragon, Trombones and Brass
Ryan Dragon is a trombonist and a fixture on the LA jazz and studio scenes and avant-garde community. After spending a number of years performing on the east coast where he attended the Berklee school of music and performed with Cirque du Soleil, Ryan moved to Los Angeles where he quickly became one of the most highly sought after young trombonists in the area. Known for his virtuosity and distinctive approach to improvisation, Ryan has contributed his playing live and on recordings with Herbie Hancock, Quincy Jones, The Hollywood Bowl Orchestra, John Legend, Usher, Gwen Stefani, Imagine Dragons and Panic at the Disco. Film score credits include soundtracks for Crazy Rich Asians, Ice Age 5, Money Monster. His playing and soloing can be heard on multiple Grammy nominated albums with Gordon Goodwin's Big Phat Band and John Beasley's MONK'estra.
In 2016, Ryan released his second album, Kid Songs, on Orenda records. Ryan performs actively with his Kid Songs quartet and is the co-leader of the extreme trombone musical comedy duo Dragon/Sellers. Ryan hails from Orange County, California where his original artistic influences were his mother and father (a dancer and trombonist respectively).