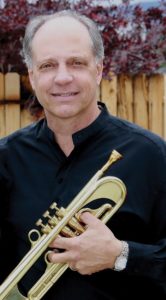 Paul January got his first paying gig when he was 11 years old, playing piano for a children's fashion show in Denver, Colorado. By 1972 he was attending music school, teaching piano and trumpet, and working every weekend, and when his former piano teacher said, "Let's move to Vegas and play in the orchestras!" he was all in.
By 1974 he realized that he couldn't take the heat (literally as well as figuratively) and found a much more temperate climate and much nicer people in the Reno area, with still plenty of work in the field of music. He spent the next 46 years playing in various spots around Reno and Tahoe, as a single performer playing jazz, standards, and pop, or with groups as large as 17 playing everything from funk to big band jazz. He has had the privilege of working with some of the biggest names ever to grace the stages of Reno and Las Vegas, and has made many friends along the way. But when a global pandemic (we're looking at you, COVID!) closes down your gig, what to do? The only logical answer is "Retire and move to Hawaii."
Now Paul and his family live in Lahaina, Maui. Most of his time is spent homeschooling their 8-year-old grandson, offering advice to the adult daughters, or renovating their home, but in his spare time, he looks forward to sharing his music with the island of Maui.