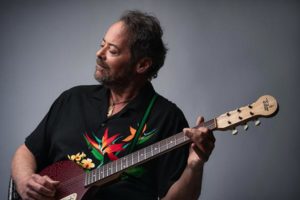 Born in Ohio to a British architect father and Italian artist mother, Colin spent his youth in Memphis, picking up guitar by accident:
"I was playing trumpet in the school band and I punctured my ear drum in a football game. So the Band director put me in the concert band playing double bass with a bow, and from there I progressed to electric bass in the jazz band at school and then switched to guitar.""Colin was also busy soaking up classic Chicago blues and Memphis soul during this time.
After graduating from Ohio University, Colin turned pro. Answering an ad in The Village Voice, he landed the guitar spot with the NYC based Little Mike and The Tornadoes. While he had to share the spotlight with guest heavy weights, such as Howlin' Wolf guitarist Hubert Sumlin and Ronnie Earl, Colin represented himself well in solo spots. This stint with Little Mike gave Colin the chance to mingle with a number of blues notables, including one-time Muddy Waters pianist Pinetop Perkins, who continually referred to the upcoming guitarist as "Collard Greens" Eventually, Colin and the Tornadoes rhythm section would head off to tour the South as the Root Doctors. Discouraged after a hurricane stranded them in Florida, the threesome went their separate ways. Colin chose to hook up with friends in Memphis. The timing couldn't have been better.
Memphis became fertile ground for the budding musician. Playing lead in the house band on Saturday afternoons at B.B. Kings' Beale Street club, Colin would often back visiting artists from Hank Ballard to James Cotton to Pinetop Perkins and Clarence "Gatemouth" Brown. Absorbing all these influences, Colin learned that the main thing was to be sure to have your own style and identity, use all your influence and distill them and present them in your own voice.
Reconnecting with his European roots, Colin moved to London in 1993. Colin spent ten years in the U.K., forming the Colin John Band and working with some veteran musicians who worked with Eric Clapton, Henry Spinetti – one of Eric's old drummers who also played with George Harrison and Paul McCartney, Dave Bronze, who plays bass on and off with Eric and Gary Brooker from Procol Harum.
Since forming The Colin John Band, the group has played extensively in England, the USA, Ireland, Germany, France, Italy, Norway, Sweden, Holland, Canada, Belgium, Denmark and Spain.
Colin has toured and shared stages with a "Who's Who" of blues and rock artists including B.B.King, John Mayall,Marshall Crenshaw,Deanna Bogart,Scott Holt,The Outlaws,Long Tall Deb, Michael Hill, Chris Duarte, Everclear, Hubert Sumlin, and many others.
After opening for John Mayall on a multi-island tour of Hawaii in 2001, Colin became enamored of the people, culture and music and moved to the Big Island where he dove into the roots of the blues slide guitar;Hawaiian steel guitar.
Studying the music of past masters and with current proponent Alan Akaka, Colin became proficient on the instrument and continues to utilize it both Live and on recording sessions.
Family circumstances forced a move to the mainland in 2011 where Colin reconnected with his friend, Long Tall Deb, a powerhouse soul and roots singer from El Paso.
Colin and Deb have been performing worldwide since 2011 to enthusiastic audiences around the globe including the USA, Canada, France, England, India and Nepal.
They have released two records together, including their latest,"Dragonfly".
2019 will bring further international touring and collaborations with other artists.