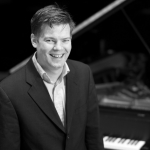 Dan Cavanagh is an Honorary Fellow of the National Academy of Music, and was named a Prizewinner in the 2009 International Music Prize for Excellence in Composition for his trumpet and piano work "From the Barrage Comes Clarity."He has garnered numerous awards for his compositions, including a 2006 First Music Commission from the New York Youth Symphony Jazz Band Classic program, Featured Performance at the 2006 International Jazz Composers' Symposium, Honorable Mention in the 2007 Gil Evans/IAJE Commission Competition, Finalist in the 2002, 2005, and 2007 ASCAP Young Jazz Composers competitions, and ASCAPLUS awards each year since 2003. Recently, his piano concerto received a semifinalist distinction in the Professional Orchestra division of the American Prize. His music continues to be performed across the country and internationally, and he has received commissions from a wide range of both classical and jazz groups across North America. Cavanagh was commissioned by Documentary Arts, Inc. to compose music for its documentary film,The Beat Hotel. His music for big band is published by ECHO Composers, Walrus Music and UNC Jazz Press. He also was commissioned by the HR Big Band in Frankfurt and Lawrence University to participate in the Radiohead Jazz Project. His arrangement of Packt Like Sardines in a Crushd Tin Box was recently was published by Sierra Music Publications and released on CD.
In November 2008, the Jazz Emporium Big Band, led by Cavanagh, released an album entitled Pulse, consisting of eight of Cavanagh's original charts. The Jazz Emporium Big Band is made up of the finest jazz musicians from around the country, and the recording has received significant radio play since its release on OA2 Records. All Music Guide's Ken Dryden writes that Pulse is an "auspicious…and striking release." Many other groups around the country have recorded his music. A selected list includes: Latin Grammy-winner AfroBop Alliance (Angel Eyes, 2014, Zoho Records), Trumpeter John Adler (Confronting Inertia, Origin Classical, 2009); the University of Northern Iowa Jazz Band One, directed by Chris Merz (Strange Wonderful, 2009); the Nova Jazz Orchestra (A Time of Reckoning, 2009, In a Lucid Moment, 2007, Hard Room, 2005, NJO Records), and the University of Texas at Arlington Jazz Orchestra (Caravan of Cool, 2009, Legacy, 2006), the US Naval Academy Next Wave Big Band (Just Getting Started, 2010). The John Brown Jazz Orchestra has recorded several of his arrangements. Grammy-nominated jazz vocalist Nnenna Freelon included Cavanagh's arrangement of "I'll Be Home for Christmas" on her 2012 release Christmas.
Cavanagh's piano trio CD, The Heart of the Geyser, featuring bassist Linda Oh and drummer Joe McCarthy, was released on OA2 records in April 2012 to critical acclaim, with comparisons to Brad Mehldau, Jim McNeeley, and other prominent jazz pianist/composers. He performed as a finalist in the 2011 Jacksonville Jazz Piano Competition, and his trio with bassist Brian Mulholland and drummer Jaime Reyes were semi-finalists and finalists of the Bucharest International Jazz Competition in May 2013. In June 2008, he was one of three pianist/composers nationwide invited to participate in the Steans Institute for Young Artists Jazz Program, a component of the Ravinia Music Festival held outside Chicago. He has performed with leading jazz figures Terrell Stafford, Jon Irabagon, Jeff Coffin, Jason Marsalis, the Adonis Rose Quintet, Remy Le Boeuf, Linda Oh, the Fort Worth Jazz Orchestra, John Riley, Grammy- winners Joe McCarthy and Irma Thomas, among others. In addition to his teaching at UT Arlington, he works as a freelance jazz pianist and composer in the Dallas/Fort Worth area. He has appeared as a guest artist or conductor with groups across the nation and is on the faculty of the International Jazz n' Youth Exchange in Rheine, Germany.
Cavanagh received a Master's of Music degree in Jazz Studies/Composition from the University of Oregon, and was awarded the Outstanding Graduate Student in Jazz Studies award upon graduation. While there, he studied jazz composition with Steve Owen and jazz piano with Randy Porter and Toby Koenigsberg, and classical composition with Robert Kyr. Prior to graduate school, he worked for MakeMusic!, Inc, makers of Finale notation software. He received his undergraduate degree in Theory/Composition from St. Olaf College, where he studied jazz with Dave Hagedorn and theory/composition with Timothy Mahr, Mary Ellen Childs, Peter Hamlin, and Charles Forsberg. For more information, visit www.dancavanagh.com.