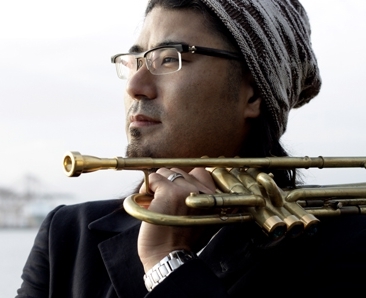 DeShannon has played jazz trumpet and flugelhorn professionally in both Hawaii and New York City for over 20 years. He has performed around the world and in famous venues such as Birdland, Carnegie Hall and Radio City Music Hall. DeShannon is one of the founding members of the group "Bop Tribal" whose recording received a 4-star review in Downbeat Magazine and contended for a Grammy Award in the Best Jazz Solo category (DeShannon's solo on "Jellyfish"). His styles range from be-bop to New York-style hard bop and Latin jazz. As a bandleader, composer, recording artist, and visionary, he has assembled two bands of his own creation: gr00ve.imProV.arTists (an urban jazz-electronica dance band) and Quadpod (a neo-bop quartet).
Starting at the age of nine, DeShannon Higa quickly exhibited a talent for the trumpet. DeShannon attended Oral Roberts University and the University of Hawaii-Manoa where he continued his music studies. In 1993, DeShannon auditioned for the Disney All-American Orchestra for which he was awarded the "jazz chair". Performing at EPCOT Center in Walt Disney World in 1993, the All-American College Orchestra backed up such talent as Carol Channing, Joe Williams, Marvin Hamlisch, Hal Linden, and Kenny Werner, among others.
In 1995 DeShannon joined the world-renown Royal Hawaiian Band, which has performed for governors, mayors, and historic events since 1836, all the while maintaining a high profile in the jazz scene. DeShannon's credits include Al Jarreau, Diana Krall, Gladys Knight, Wayne Newton, the Temptations, Donny & Marie Osmond, Johnny Mathis, the Drifters, Wynton Marsalis, Burt Bacharach, Arturo Sandoval, Dionne Warwick, the original Elvis Presley band, Tower of Power rhythm section, jazz pianists Freddie Cole, Don Grusin and Kenny Werner, and the Honolulu Symphony, among many others. He even performed at the wedding of Microsoft founder Bill Gates.
In 2000, DeShannon both recorded and wrote arrangements for the local swing band recording, Hula Joe & the Hut Jumpers, for which they won a Na Hoku Hanohano (Hawaii's version of the Grammys) award for "best jazz album". In 2001 he moved to New York City to further pursue his music career. While there he performed with the Lew Anderson Big Band, Howard Williams Big Band, Cuban salsa bands Mo'Guajiro and Pan Contimba, NonoNonet, among many others playing lead and jazz. He has performed at such esteemed venues as Carnegie Hall, Radio City Music Hall, Lincoln Center, the Knitting Factory, and Birdland.
After three successful years in New York, DeShannon returned to his beloved Honolulu to bring what he has learned abroad back home. Since returning, he has performed relentlessly in local jazz venues showcasing his New York-style edge both in his trumpet playing and his compositions. In 2008, as a member of the jazz quintet BOP TRIBAL, DeShannon released a CD of the same name, featuring his trumpet & flugelhorn work as well as his compositional prowess. Most recently, Bop Tribal was nominated for, and won, the award for best jazz album in the 2009 Hawaii Music Awards. They also received a coveted 4-star review in Downbeat Magazine and were contenders for a Grammy award in the Best Jazz Solo category (DeShannon Higa on "Jellyfish").