Jazz Maui 2014 presents Holiday Swing, Sunday Dec 14 at the Four Seasons Resort Wailea – Maui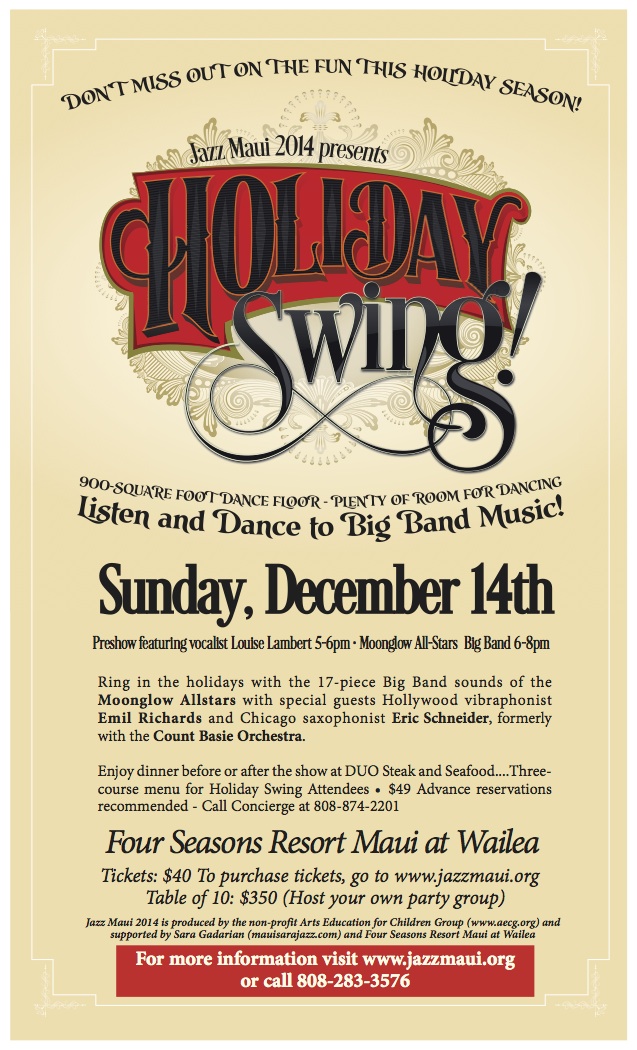 Jazz Maui 2014 presents "Holiday Swing" with the Big Band sounds of the Moonglow All-Stars featuring special guests vibraphonist Emil Richards and saxophonist Eric Schneider on Sunday, December 14 from 5-8pm at the Four Seasons Resort Maui at Wailea. Tickets are $40 per person, $350 for a table of ten, and are available at www.jazzmaui.org or by calling (808) 283-3576.
"We are thrilled to present two of the world's most highly-regarded musicians," says Bryant Neal, director of Jazz Maui. "This is a rare opportunity for Maui's residents and visitors to spend an evening with jazz legends such as Emil Richards and Eric Schnieder."
Emil Richards' illustrious career began in the 1950s and, since then, he has played and/or recorded for most of the famous names in music including: Charles Mingues, Perry Como, Ray Charles, George Shearing, Paul Horn, Shorty Rogers, Frank Sinatra, Nelson Riddle, Judy Garland, Sarah Vaughan, Bing Crosby, Nat King Cole, Stan Kenton, the Beach Boys, George Harrison, Frank Zappa, and many, many more.
Tenor-saxophonist Eric Schneider is an institution in the Chicago jazz scene, having played topnotch jazz for 30 years. He gained recognition when he was a member of the Earl Hines Quartet during 1979-82 (also playing alto and clarinet), and he toured with the Count Basie Orchestra during 1982-83. He has also performed with Benny Goodman, Mel Torme, Ella Fitzgerald, Joe Williams, Sarah Vaughan, Rosemary Clooney and Billy Eckstine.
The 17-piece Moonglow All-Stars, under the direction of Lisa Owen,specialize in swing music of the 1940s and 50s. The music is geared for ballroom dancing and there is plenty of room to swing on the resort's 900-foot dance floor. Vocalist Louise Lambert opens the show at 5pm and the entire band takes the stage at 6pm.
In celebration of Jazz Maui, the Four Seasons Resort Maui at Wailea is offering a prix fixe dinner before or after the show at the poolside restaurant, DUO Steak and Seafood. The three-course menu for Holiday Swing attendees includes choice of appetizer (Baby Beet Salad or Crispy Tempura Short Ribs Steamed Buns); entrée (Flat Iron Steak or Seared Mahi Mahi); and, dessert (Warm Ono Farm Banana Toffee Pudding or Tahitian Vanilla Crème Brulee). The price is $49. Advance reservations are recommended and may be made by calling the hotel's concierge at 808-874-2201.
.
Jazz Maui is produced by the nonprofit organization Arts Education for Children Group (www.aecg.org) and supported by Sara Gadarian
(mauisaraJazz.com) and Four Seasons Resort Maui at Wailea. For more information, visit www.jazzmaui.org or call (808) 283-3576.
Get Your Tickets Now!