JAZZ MAUI 2015 PRESENTS THE ARTURO O'FARRILL JAZZ SEXTET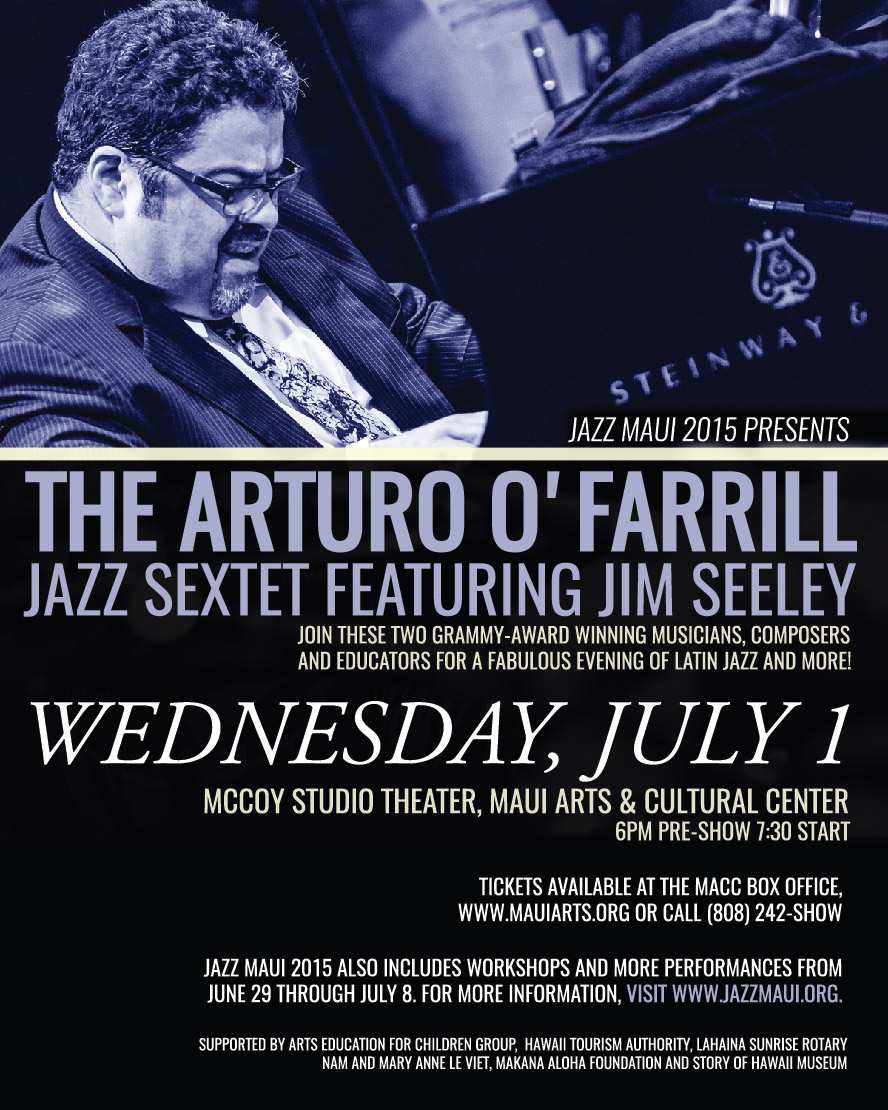 Arturo O'Farrill, pianist, composer and educator received his third Grammy Award in 2015. When it comes to Latin jazz, Arturo O'Farrill ranks as the modern king of the genre. Trumpeter Jim Seeley has performed with Ray Charles, the Duke Ellington Orchestra, and Maynard Ferguson, and has been a long standing member and featured soloist with the Chico O'Farrill Afro Cuban Jazz Orchestra. The University of Texas Arlington faculty jazz sextet will open the show. There is a pre show courtyard performance by Na Ali`i Big Band (students from King Kekaulike HS on Maui).
Tickets: $35, $45; Sponsored by the Arts Education for Children Group, Hawaii Tourism Authority, and Makana Aloha Foundation with artist booking by Dancin Dave Productions; Master class workshops during the day of the concert require a separate ticket for entry. $20.
The UT Arlington Department of Music is an accredited member of the National Association of Schools of Music (NASM) with a world-renowned faculty and approximately 325 graduate and undergraduate students. It offers both undergraduate and graduate degrees in jazz performance. The Bachelor of Music in Jazz Studies degree is a robust music degree combined with significant coursework in jazz studies. The Bachelor of Music in Jazz Studies is designed to prepare students for professional work in the ever-growing jazz and commercial music areas or for successful audition into graduate school.
The concert is part of a week-long series of workshops and concerts presented by Jazz Maui including:
Monday & Tuesday, June 29 & 30 – Jazz Camp with the University of Texas (UT) at Arlington Jazz Faculty, King Kekaulike High School, 121 Kula Highway, Pukalani, 4-6pm daily
Beginning/ intermediate level clinics geared toward middle and high school jazz musicians. First hour focus is on big band styles, rehearsal techniques, and sight-reading. Second hour focus is on beginning/ intermediate solo techniques, including improvisation over basic chord progressions, scale studies, and practice techniques. $50 for both days; assistance available Register HERE
Jazz Clinics at the McCoy Studio Theater, Maui Arts & Cultural Center – Maui Arts & Cultural Center, One Cameron Way, Kahului
Beginning, intermediate and advanced classes with internationally renowned professionals.
10-11:30am – UT Improv Clinic
Beginning/ intermediate level clinic geared toward middle and high school jazz musicians. Focus includes basic jazz styles, articulation, and solo techniques, including improvisation over basic chord progressions, scale studies, and practice techniques. $20, Register HERE
1-2pm – Jim Seely
Advanced clinic geared toward experienced musicians. Focus is on approaches to practice and advanced improvisation, including advanced chord progressions and substitutions, chord changes, and re-harmonization. $20, Register HERE
2:00-3pm Arturo O'Farrill
Advanced clinic geared toward experienced musicians, composers, arrangers, and educators. Focus includes composition, arranging, Latin rhythms, and Afro-Latin, Afro-Cuban, and Pan-American styles and pedagogy. $20, Register HERE
6-7 pm Student Preshow Concert, McCoy Studio Theater courtyard
Performance by Na Alii Big Band (King Kekaulike HS students) – Free
7:30pm – Arturo O'Farrill Jazz Sextet featuring Jim Seely in Concert
McCoy Studio Theater
UT Arlington Jazz Faculty Sextet opens the show
$35 and $45; tickets available at www.mauiarts.org or call 808-242-SHOW10am
Thursday, July 2
Concert featuring student groups Na Ali'i and Chop Suey
Shops at Wailea – 6:30pm – Free
Friday, July 3
Concert featuring student groups Na Ali'i and Chop Suey
Whalers Village, Kaanapali – 7pm – Free
Gala Benefit concert
Private Residence, Kaanapali HIllside
6:30pm – An intimate evening of acoustic jazz featuring Grammy-Award winner Arturo O'Farrill, fine wines and heavy pupu
Limited to 50 guests- $100 per person; Register HERE
Saturday, July 4
Concert in the Park
Lahaina Library Lawn, Front Street
Holiday celebration featuring traditional musical favorites and fireworks
5-6pm UT Faculty
6-7pm Chop Suey Jazz Band
7-8pm Maui Community Band
8pm Fireworks
Free
Sunday, July 5
Mike Buono Quartet
Whalers Village, Kaanapali – 7pm – Free