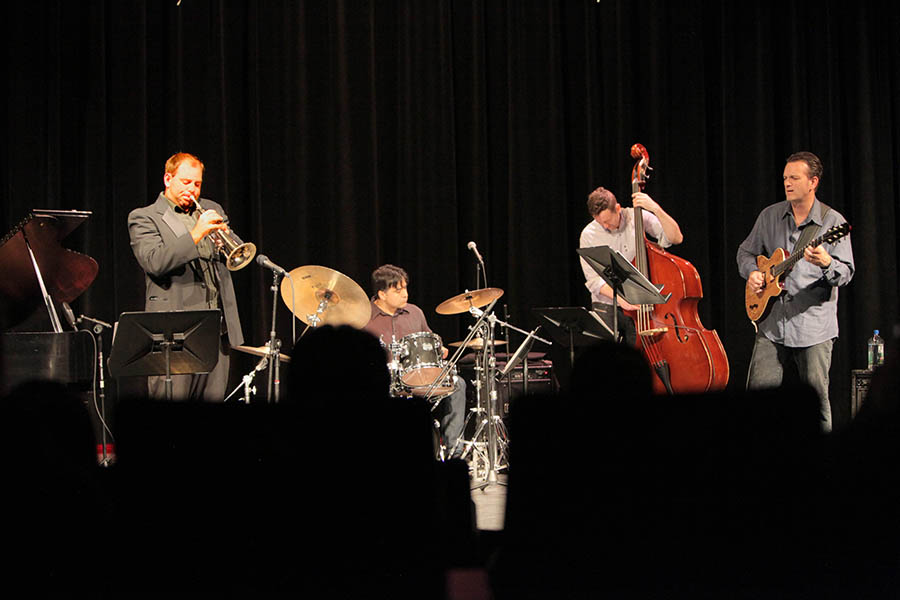 Louis Romanos began his career in music in West Hartford, CT winning first chair in the award-winning Pops 'n' Jazz band.
This opportunity led to region competitions where Louis won awards for outstanding musicianship. He was also offered a scholarship to attend the Berkley School of Music which he turned down to go to the birthplace of Jazz, New Orleans, to study music and philosophy. He was a professional musician in the Big Easy for 15 years. In that time he performed and recorded with a number of renowned musicians including Gene Bertoncini, Steve Masakowski, Charles and Cyril Neville, Al Hirt, Dave Easley of Brian Blade's Fellowship Band, Charlie Miller of Dr. John's band, Jazz Legend Earl Turbinton, Mark Mullins of Harry Connick Jr.'s Band, Tricia Boutte of Galactic, Rich Vogel of Galactic, Skeric, Dave Anderson of the Louisiana Philharmonic and many, many more.
Louis also extensively toured Europe with New Orleans R & B singer, Marva Wright. In 1997, Louis formed the live electronica band, Permagrin, with co founder, Dan Sumner. Permagrin performed in SXSW music conference, the NOW music festival, the New Orleans Jazz Fest, the Indy Jazz Fest, the Boom Boom Room in San Fransisco, and were nominated for best electronica band in New Orleans in 2005 Big Easy Awards. They also performed clinics at universities on the use of sample and MIDI technology in live settings. In 2004, Permagrin licensed "Classical" to the documentary movie " Plane Spotting". While continuing to write for Permagrin, Louis began writing for his own jazz quartet, as well as for various musicians and choreographers. In 2005, Louis was commissioned to write 5 works for the "Confederacy of Dances" performance in New Orleans at the Contemporary Arts Center. Louis's music has been featured several times on National Public Radio and WTUL, WWNO, and WWOZ radio. In 2006, Louis wrote "Light Waves" for visual artist and Chicago producer, Nancy Bechtol, and together they have a work on Culture T.V. Louis also composed about a dozen pieces for C-E-N-T-E-R, a collaborative project between visual artists and composers, in Los Angeles, California.
In 2001, Louis put together The Louis Romanos Quartet (LRQ) with Dave Easley from Brian Blade's Fellowship band and Dave Anderson, the principal bass chair in the Louisiana. The music that Mr. Romanos composes reinterprets both traditional and modern jazz, interweaving Latin, bebop, and New Orleans street beat rhythms with profound melodies to create a playful, rhythmically driven, compelling sound. In 2005, after Katrina flooded New Orleans, Louis moved to Athens, Georgia and began touring with Dromedary Quartet and recording with Chuck Leavell on his latest CD, "Back to the Woods" featuring Keith Richards and John Mayer. It was in Athens that LRQ was reborn. The LRQ now features exceptional musicians from both the United States and Europe, and has performed in Hawaii, the West and South Eastern regions of the continental USA and all over Germany. The LRQ also scored and performed live movie syncing for Edison's Elekrisches Theater at Werkstatt für Kunstprojekte in Leipzig, Germany. for artists in the U.S. and Europe.
Listen to The Louis Romanos Quartet:

{play}images/music/lrqplaylist.xml{/play}

{besps}lrb{/besps}