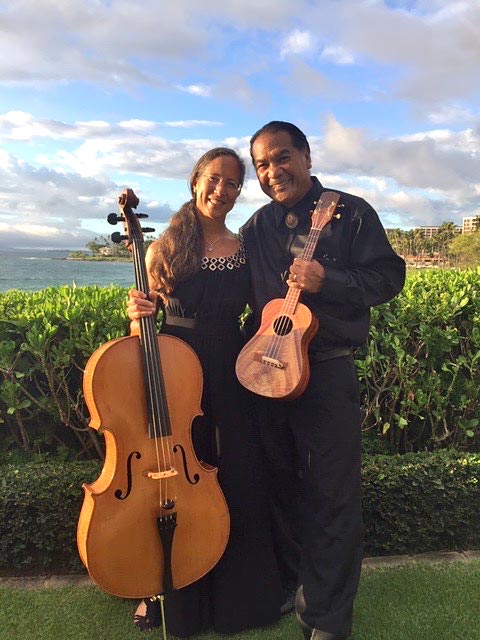 Michelle Ancheta – Cello 
Michelle began playing cello at age 10. Her father, the late Dr. Jose' Romero, wanted his 4 children to form their own string quartet, and Michelle was assigned to play the cello. Her first teacher was Roxie Berlin, then the late BJ Smith. She also studied with Beverly LeBeck on Oahu, under a Maui Philharmonic Scholarship. She remembers her teachers fondly.
Music has been an incredible adventure, allowing her to have wonderful opportunities, like going to Japan with Uluwehi Guerrero, and playing with and learning from Keali'i Reichel and Willie K. She is deeply grateful for both her parents' encouragement and support of music. In addition to performing with The Maui Chamber Orchestra and The Maui Pops, she is part of the Praise Band at Grace Bible Church.  She also enjoys performing with Cellolele, a cello/ukulele duo with her husband Ron.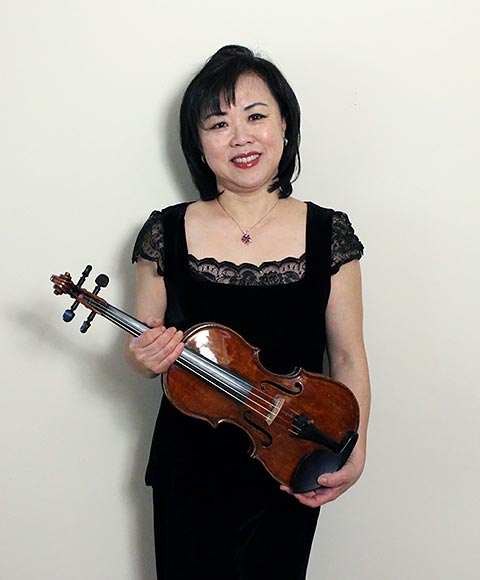 Ae Kyong Yoon – Violin 
Mrs. Yoon is a graduate of Manhattan School of Music with a Bachelor's and Master's Degree where she was a scholarship student and studied under Caroll Glenn, Raphael Brownstein, and Ireana Browne. She received the Suzuki Certificate from a two-year program with Behrend, who is a member of the Juilliard faculty. She also studied for 2 years in a Doctoral program at Teachers College at Columbia University and has done a lot of work with Eurythmic Class and Delcroze Training. Mrs. Yoon has performed with several orchestras in the Waterloo Music Festival Symphony, Vermont Festival Orchestra, Livingston Symphony, Baroque Orchestra in New Jersey. She also played chamber music with Juma Piano Trio and Bohemian String Quartet in New York and New Jersey. She attended master classes with Dorothy Delay and Joseph Gingold and most recently with Jonathan Feldman. As a violin teacher, she has attended many Suzuki Seminars, Teacher's Conferences and festivals. Mrs. Yoon was the primary Korean teacher as a Suzuki trained teacher in the NJ area. She has performed in many prestigious locations, leading groups of violin students, such as Carnegie Hall and the Ridgewood Suzuki Festival. Her students have been Music Competition winners and Concert Masters for several community Orchestras. She has been chosen for 'Best Teacher of the Year' from Queens College. She has been teaching for more than 20 years. She currently has a private studio in Maui, Hawaii and performs with the Maui Chamber Orchestra and Maui Pops Orchestra.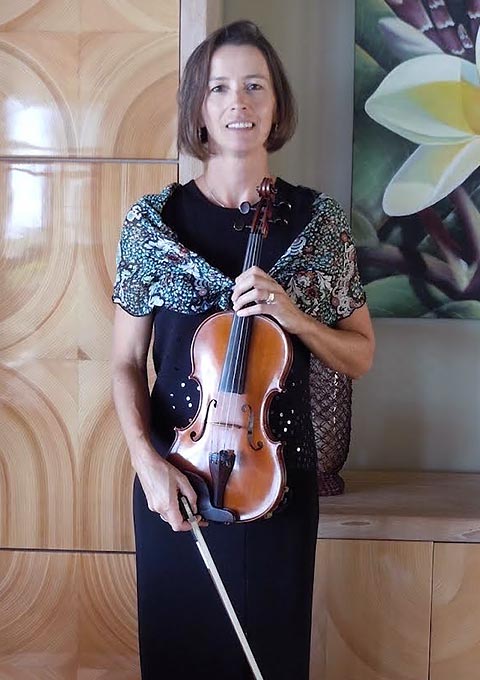 Rona Landrigan – Violin
Rona grew up in a musical family in Glasgow, Scotland. She earned her undergraduate degree from the Royal Northern College of Music in Manchester, England and accomplished a post-graduate degree in violin performance at the Royal Scottish Academy of Music and Drama in Glasgow.
Subsequently Rona became a member of the Camerata Orchestra in Athens, Greece where she met her husband. Upon their return to the United States, she became a music educator in Chatham, NJ.
Travel took her to Maui where she joined the Maui Pops Orchestra and has been Concertmaster since 2015. She was a founding member and Concertmaster of the Maui Chamber Orchestra from 2014-2021. Rona also enjoys collaborating with other musicians to play chamber music and has performed in various ensembles at both private and public venues. Serving on the Board of the Maui Youth Philharmonic Orchestra and teaching violin classes has helped Rona to promote music for young people on Maui.
Over the past 2 years, Rona has been involved in various creative projects at Fuzz Box studios in Lahaina. She also plays in the Koholatta Love Band.