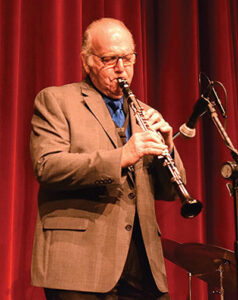 Phil Smith was born in Memphis, Tennessee; the Home of the Blues. That city influenced his career as a musician and lover of jazz and blues for over 40 years. He grew up in Blytheville, Arkansas and started playing the clarinet when he was 8 years old. His older brother Joe was already paling the accordion and with the addition of his younger brothers, Mark and David, they formed the Smith Brothers Combo in their home town. The began to play for talent shows, beauty pageants, services clubs and other functions in the community. His brothers are still active in the Memphis music scene today.
Phil was awarded a music scholarship to Memphis State University (now the University of Memphis) in 1962 as well as a scholarship to study at the celebrated Berklee School of Music in Boston in 1964-'66 studying under Joe Viola, Master Woodwind Instructor.
Phil has been performing and recording for over six decades as a Master Woodwind Musician. He has a lifetime of experience playing all the saxophones and in addition plays a superb clarinet and has a rich baritone voice for vocals and funny Cajun stories. Phil Smith's passion includes playing all styles of jazz, rhythm 'n blues, latin, swing and danceable classics.
In January of 1967, Phil and his fellow horn players from the University of Memphis traveled to Muscle Shoals, Alabama and Fame Recording Studio to record with Aretha Franklin and her first of many hits for Atlantic Records. The legendary producers, Jerry Wexler and Tom Dowd were the hit makers and the album "I Never Loved A Man The Way I Love You" with other classics "Do Right Woman, Do Right Man", and "R-E-S-P-E-C-T" sold over 19 million copies. Phil Smith played baritone saxophone on the song "I Never Loved A Man The Way I Love You."
Phil's talents have been sought after for performance and recording by such notable talent as: Aretha Franklin, Stevie Wonder, Michael Bloomfield, Charlie Rich, Dinah Shore, Joe Williams, Johnny Mathis, Big Joe Turner, San Francisco Medicine Ball Band, Bourbon Street Irregulars, Cami Thompson, Vic Damone, Edy Gorme, Mac Davis, Henry Mancini, Doc Severenson, Earl "Fatha" Hines, Michael Buble, Englebert Humperdinck, The Smothers Brothers, Buddy Morrow, Claude Thornhill, Les Elgart and Willie K to name a few.
Phil has three self-produced albums titled: "Songs In The Key Of Love" and "Almost Live at Uva" with his Gentlemen of Jazz. They were featured at the Silverado Country Club and Resort and at a very jazz friendly Italian restaurant in Napa "Uva Trattoria." The band had an 8 ear run playing twice a week at this great restaurant and bar often called the "Cheers" of Napa because of so many locals and tourists frequenting this one of a kind nightspot.
Phil's latest album is titled "Aloha Y'all" and was recored on Maui with some of Maui's best musicians playing popular Hawaiian Tunes to a different beat and unique arrangements. He also has a comedy album of Cajun jokes recorded live in Napa titled "Thibedeaux meets Boudreaux".
Quotes for critics:
"Phil Smith has a first rate band and plays the clarinet like Benny Goodman and Artie Shaw"
Herb Caen, San Francisco Chronicle
"Phil Smith on the day we caught him at the Mount View Hotel in Calistoga was absolutely brilliant."
Bill Knowles, The Mississippi Rag
"Phil Smith and his Gentlemen of Jazz have so much class and my guests are always entertained so magnificently by their wonderful music."
Danielle Steele, Author