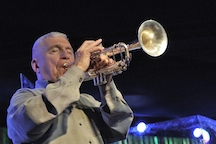 Valery Ponomarev worked with Art Blakey & the Jazz Messengers for 4 years. With the Messengers, he performed at major concert halls, clubs, and festivals all over the world and recorded eleven record albums. He also made numerous television appearances with the Messengers in Europe, Japan, and Brazil. In the United States he has made television appearances on "To Tell The Truth," on the PBS network, National Geographic Today, and CNN. He performed at the Clifford Brown Memorial Concert in Wilmington, Delaware, 1991, which featured the music of the legendary Max Roach/Clifford Brown Quintet with Max Roach (leader) on drums, Harold Land, tenor sax, George Morrow, bass, Sam Dockery, piano, and Valery Ponomarev, trumpet.
Mr. Ponomarev returned to Russia in 1990, the first time after a 17-year absence, to participate in the First International Jazz Festival in Moscow along with many of the world's greatest jazz superstars. Since then Mr. Ponomarev has traveled regularly to Russia with American musicians, including Benny Golson, Curtis Fuller, Bobbie Watson, James "Sid" Simmons, Bradford Leali, Vincent Lewis, Byron & Robert Landham, Sean McGloin, Evelyn Blakey, joining local stars for concerts and tours of the major cities in Siberia, Moscow and St Petersburg.
He was featured in the movie "Frozen In Amber," a documentary about the contributions of Russian ex-patriots to art and the performing arts in the USA. "Messenger from Russia," a documentary by independent producer Jason Scadron about Valery Ponomarev's life, was aired on the National Geographic Today channel for the first time in March 2002 and most recently in January 30th & 31st 2003. "Trumpet-player from Russia" is a 54-minute documentary about Mr. Ponomarev's life produced by world famous writer Edward Topol and sponsored by Russian State filming company. It is in progress as of this writing.
Mr. Ponomarev has been written about very positively in many publications including: Oxford University Press, the Grove Encyclopedia of Music, Penguin Guide to Jazz on CD by Richard Cook & Brian Morton, All Music Guide to Jazz, Hard Bop Academy by Alan Goldsher, Top Brass by Bob Bernotas, Trumpet Kings by Scott Yanow, and many others.